You can create a dynamic gallery for displaying your ArcGIS Online maps using the Public Maps Gallery Template recently shared on ArcGIS Online. The gallery template has been featured during the Extend the Reach of Your GIS seminar series and is a quick and easy way to create website galleries that feature your maps, apps, and mobile apps.
The template works against any public group, and automatically populates the gallery using items in the group. Even better, any changes, deletions, or additions you make to the group are automatically reflected in your gallery. Shown below is a published gallery from the City of Salem Oregon: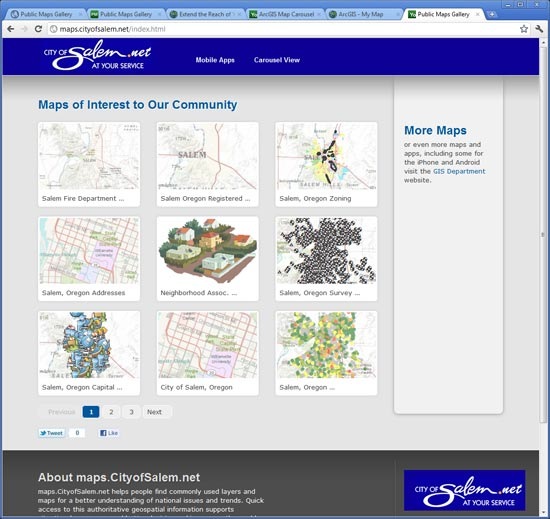 Just download the template from its ArcGIS Online location, follow the instructions to insert your group ID, then publish your gallery. The maps open in a simplified viewer that is designed to provide easy "view-only" capabilities for your maps.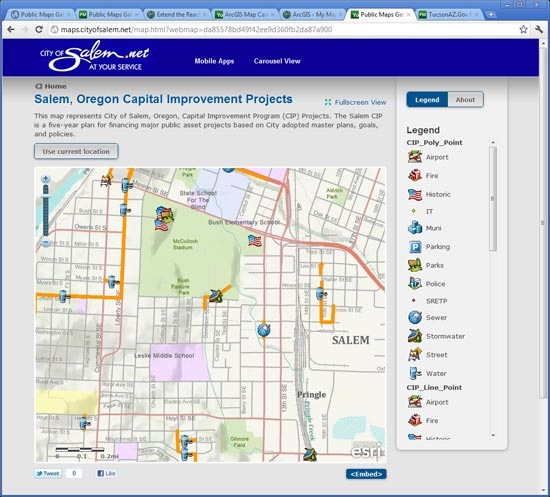 Links are included so your maps can be tweeted, liked on Facebook, or embedded.

The viewer offers the option of "carousel view" which displays a gallery ribbon below your map.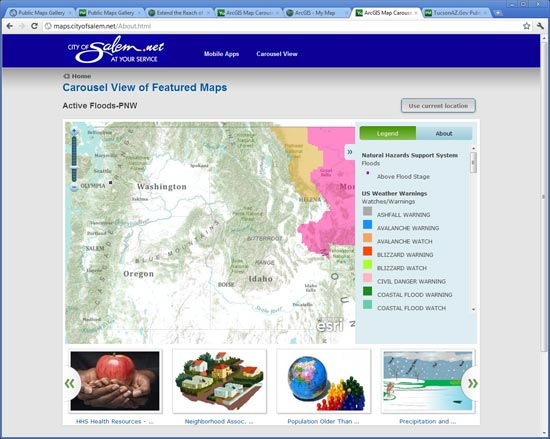 All source HTML, javascript, and CSS files are included in the download for further customization (if desired). The gallery can also be edited to open the ArcGIS.com map viewer or Explorer Online with your maps instead of the simple viewer.
The template is updated regularly, so stay tuned for new versions. It's a great way to put up a dynamic gallery quicky and easily for your maps that anyone can use.