Monthly Archives:
September 2011
When the ArcGIS for Local Government program began nearly three years ago with a set of maps and apps for water utilities, the user base was relatively small and the processes for receiving technical assistance with the maps and apps were still being formulated. Users with questions regarding the maps and apps typically contacted members of the local government, water utilities, land records or public safety teams themselves, either directly or through the email alias. Team members did their best to address questions from users but with more than 50 maps and apps on the Resource Center today, and almost 50,000 downloads to date, it is difficult to meet everyone's needs.
Today, ArcGIS for Local Government requires a support solution that can keep pace with our growing user community and deliver the assistance they need. That solution is Esri Support.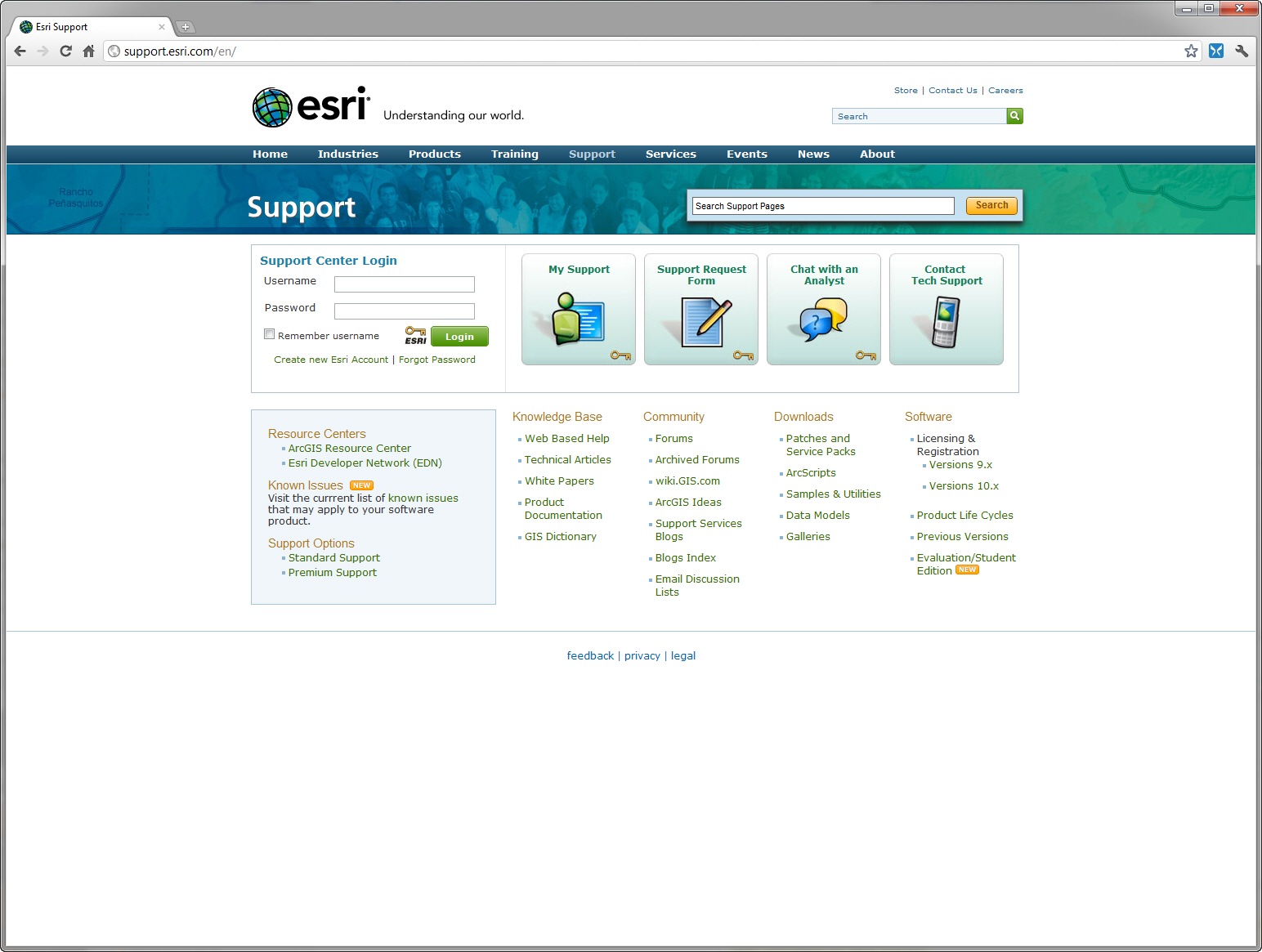 Starting today, Esri Support should be the first place ArcGIS for Local Government users in the U.S. go with questions or technical problems related to the maps and apps provided on the Resource Center. From the Esri Support page you can access all of our online support resources like the help, knowledge base, forums, and blogs. In addition, users on software maintenance are able to contact Support by phone, email and even chat. Once Support is contacted, a qualified Analyst will log an incident into our support system and assist the user in troubleshooting the issue until it is resolved. Examples of possible support incidents range from problems with publishing map service, to registering an ArcGIS Add-in, or best practices for loading data in to the Local Government Information Model.
By including Esri Support as the primary contact for ArcGIS for Local Government issues, we gain several benefits, including:
Greater accessibility – With Support Centers available from 5 am to 5 pm Pacific and a variety of ways to contact them, ArcGIS for Local Government users can now get their questions answered sooner and in a way that is most convenient for them.
Better transparency – Any incidents logged through Support can be tracked through the My Support, as well as the Customer Care Portal, providing the user with the latest information on the progress being made to resolve the incident.
Bug tracking – If a user discovers a bug (such as an error in one of the apps or problem with one of the maps) they can log it with Support and keep track of it as it is resolved.
Better self-help resources – With incidents and bugs on ArcGIS for Local Government maps and apps now being logged into our Support system, users can choose to search our Support resources themselves, often finding the answers they need without contacting a Support Analyst.
Consistency – Now, when ArcGIS for Local Government team members have questions about technical aspects of the program, they can seek help from the same place they go for their other ArcGIS questions – Esri Support.
These advantages, as well as others, make Esri Support a valuable partner for the ArcGIS for Local Government team. Of course we hope that your experience with the maps and apps is smooth and problem free. But if trouble does occur, it's nice to know that Esri Support will be able to help you out.
We think our water utilities, public safety, land records, elections, planning, and public works users will find this support model very exciting. So, don't hesitate to take advantage of all our available online support resources or to contact Esri Technical Support with your technical questions. As always continue to contact us directly if you'd like to learn more about ArcGIS for Local Government and the maps and apps contained in each module.