Monthly Archives:
July 2011
The ArcGIS Viewer for Flex version 2.4 was recently released with some great new features that include a geoprocessing widget, support for many different languages, and more. These features build upon the already easy-to-configure Flex viewer capabilities that can be used with any ArcGIS Online webmap. Let's have a look at how you can use your ArcGIS Online maps with the configurable ArcGIS Viewer for Flex application.
To get started with the ArcGIS Viewer for Flex you'll need to do two things; setup your environment to host the application, and download and install the ready-to-use Flex viewer. Both are simple to do, and covered in the Getting Started help topic. Once installed you can use your own ArcGIS Online maps, or any other publicly shared ArcGIS Online maps, in the Flex viewer with a few simple edits.
Below we've opened the USA Tapestry Segmentation map currently featured in the ArcGIS Online gallery using the built-in ArcGIS.com map viewer (a JavaScript application):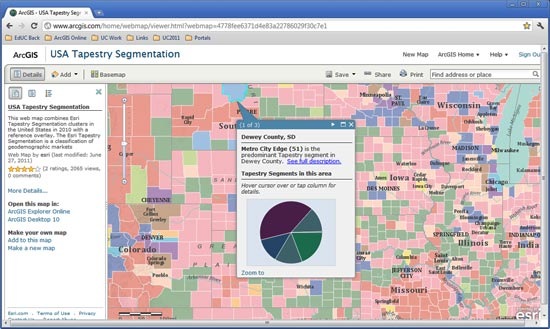 When you open any map you'll see that the URL includes the unique map ID, which we'll use in the Flex viewer. Here's the ID highlighted in the map URL:

The ArcGIS Viewer for Flex uses XML configuration files to control everything from the map that will be used to the widgets that are displayed and how they work. To add your ArcGIS Online map, go to the root folder where you installed the Flex viewer application (for example – c:/inetpub/wwwroot/flexviewer) and edit the config.xml file found there. Near the top, in the UI elements section, you'll see the map tag: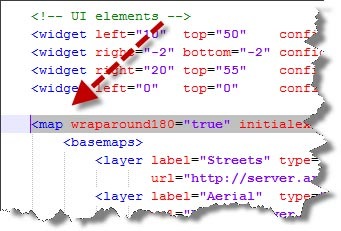 Comment out the existing map tag line (or edit it) to add your map ID (in the config.xml file it is named "itemid") to the list of parameters, as shown below:

Now you can start the viewer from your local server (for example: http://localhost/flexviewer) and you'll see the ArcGIS Online webmap displayed. Note that pop-ups, transparency, map notes, and other features in your ArcGIS Online map are fully supported.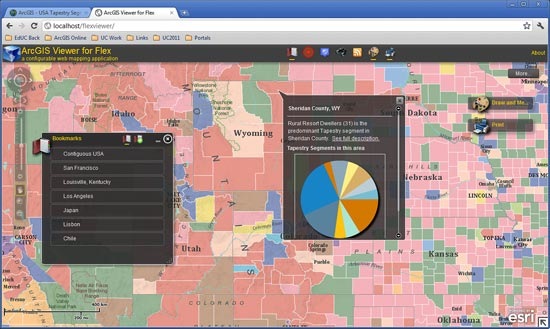 The viewer can be customized easily, without the need to do any programming. You can remove widgets by commenting out the ones you don't want; you will find them listed at the bottom of the config.xml file. You can also modify the properties of each widget (found in the widgets folder of your installation) by editing their respective XML configuration files. All you need is Notepad (or similar editor) and you can quickly create a custom Flex application for your ArcGIS Online maps.
Those familiar with Flex can create and add your own custom widgets, and a lot more, via the Flex API. To deploy the finished application, just post it out on your web site.
For more information see the following:
ArcGIS Viewer for Flex: A Quick Introduction (video)