Some users have noticed that the option to display lines using 3D Simple Line symbols – tubes, strips and walls – is not available in ArcGlobe. This is a current technical limitation with ArcGlobe's rendering pipeline (which has not been addressed in 10 or 10.1).
So, if you need them, how do you display tubes in ArcGlobe? The answer is to generate multipatch features from the displayed geometry in ArcScene.
The process is fairly simple:
Symbolize your line data in ArcScene as tubes (using a 3D Simple Line Symbol)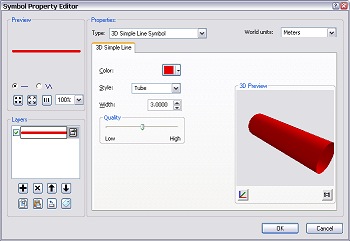 Use the Layer 3D to Feature Class GP tool to create a new multipatch feature class from the symbolized layer.

Then display the multipatch data in ArcGlobe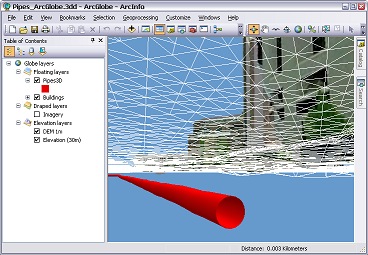 Things to be aware of:
Do not ratchet up the tube 'Quality' slider when you define the layer – this will minimize the number of triangles to be displayed later

Generate a full data cache for that layer in ArcGlobe (available on the layer's context menu in the TOC

Aggressively use the distance-based visibility setting so you don't see too many tubes at once

The layer will work marginally better as "floating" (ie: has absolute z-values embedded) than as "draped"
For those unfamiliar with multipatch features, it is simply a geometry type (like points, lines and polygons) where the geometry is captured in 3D triangles.  Like all other geometry types, it supports database concepts such as attribute fields, subtypes, relationship classes and table joins.  Multipatch layers can also use the various rendering options, such as attribute-driven colors, distance-based visibility, HTML popups, etc.
It's also worth mentioning that the most current release of ArcGIS 3D Analyst (soon to be 10.0 SP2) contains a significant amount of performance improvements for displaying multipatches.
Nathan Shephard
3Dteam