Indonesia was hard-hit by an earthquake, tsunami, and volcanic eruption, all occurring within a short timeframe. The earthquake happened on Monday night, and registered 7.7 on the Richter Scale. The subsequent tsunami triggered by the quake flattened several villages and a resort, leaving hundreds dead and many hundreds more still missing. Mount Merapi, one of Indonesia's most active volcanos, erupted soon after the earthquake killing at least 28 people and coating the region with ash.
The Pacific Disaster Center (PDC) monitors many sources of disaster event information (like NOAA and USGS) and publishes continually updated information in real-time via ArcGIS Server. PDC shares these services via ArcGIS Online, where you can discover and use them to create your own map to take a closer look at these disastrous events.
Start by opening the ArcGIS.com viewer and choose Add. Below we've searched ArcGIS Online for "PDC" to discover the available services, choosing PDC Active Hazards to add to our map.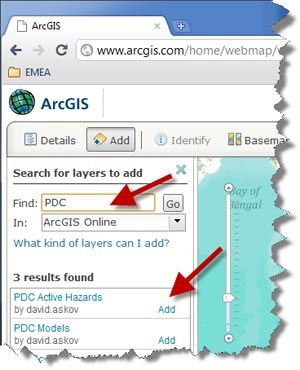 The PDC Active Hazards service includes a collection of dynamically updated information that's culled from sources in near real-time. These are published as sublayers in the single PDC Active Hazards ArcGIS service. For our map we want to view just two of the sublayers – earthquakes and volcanoes.
To view a subset of all available information in the service, we open the map contents, and click PDC Active Hazards (the service name) to view its sublayers. Below we've checked the Active_Volcano and Recent_Earthquake sublayers to view them on our map.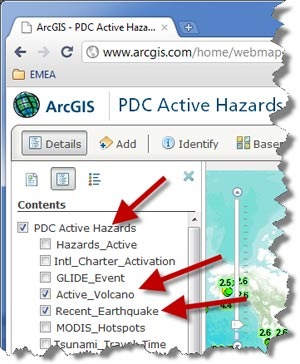 Next we zoom to Indonesia, where the cluster of earthquakes and active Mount Merapi volcano can be seen, and save and share our map publicly via our ArcGIS Online account. There it can be discovered and viewed by visiting ArcGIS.com or using the built-in ArcGIS Online search capabilities in ArcGIS Desktop, ArcGIS Explorer Online, or ArcGIS Explorer Desktop. The map can also be viewed using ArcGIS for iOS, a free application for your iPhone or iPad that you can download from the Apple store.