One of the most valuable parts of the Dev Meet Ups is the lightning talks. If you've missed out, then here's a quick overview of what they are and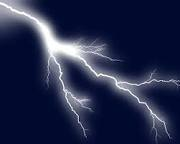 how they work.
What is a lightning talk? These are short 5-10 minute, fun, informative, and
somewhat informal, presentations that give you a chance to share something you're working on, something you've done, or something you've learned that you think might be of interest to the group.
How many are there? There are only four lightning slots available for each Dev Meet Up, so be sure submit your title and description as early as possible!
What's the format? You have the stage for 10 minutes, so you decide.  If you want to use PowerPoints, you can. If you want to just demo a website or an application or even code, you can. You shouldn't spend hours putting detailed slides together!
What's the set-up? A microphone, projector, and laptop with PowerPoint will be set-up for you, so just bring a USB drive and you are good to go. You can also walk up with your own laptop if you have special configuration requirements.
What should I talk about? In general, your content should be of interest to developers: designing, frameworks, coding, testing, and tips and tricks. It might include mapping, data management, geolocation, mobile devices, but it isn't restricted to these topics.
Your talk does not need to include Esri technologies, for example, third-party technologies such as development environments and other products and libraries that can work alongside Esri products.  Your talk shouldn't be focused on promoting your business, or some other products and services for sale.  Attendees want to learn something from you and take away something they can use.
Presentation Tips:
Don't spend hours putting together a polished
presentation!
Keep it short and sweet, and get to the point soon.
Try to emphasize the "how" over the "what" and "why".
Keep it less than 10 slides (if you use a PowerPoint
presentation)
Make your presentation available online after the
meet up
How do I sign-up? Submit your title and description at the time you RSVP, or send it to the host responsible for each Dev Meet Up.  The sooner the better!
That's it!  So far the lightning talks have been one of the most fun and informative parts of the meet ups, so be sure to submit your talk today!
See you at the next meet up!
- EDN Team