A lot of what we do in development comes from you. ArcGIS 10 is exciting, not only because of the core changes to the user interface, but our team was able to add a lot of new functionality, driven by you. Here are some highlights.
Improved raster format support
Every version of ArcGIS strives to have better raster format support. In ArcGIS 10, the format library has been completely revamped, to try and address bugs and limitations that previously existed. In addition, there are more formats that ArcGIS can read and write.
A new raster data model – the mosaic dataset
The mosaic dataset is like a hybrid format – a raster dataset display and a raster catalog management – with much more functionality. We've enhanced how we add data by being able to specify a product, such as QuickBird or DTED. And the on-the-fly processing capabilities will save you time and disk space. There will be plenty more blogs about mosaic datasets, so please continue to visit in future weeks.

Less clicks to achieve your rendering and processing tasks
You mentioned that some commonly used rendering and processing operations were deeply imbedded in a nest of user interfaces. The Image Analyst Window is designed to give you easy access to modify your image display—both rendering and processing– with only a few clicks. In addition, all processing is performed on the fly, so you get your results right away.


More raster options
There are always enhancement requests from users who want their raster data to be opened in a specific way. Raster Options were available in previous releases, but now you have more options available to customize how your raster is opened, or how it behaves.


More Geoprocessing
Geoprocessing is a large part of the ArcGIS framework, so even more tools were created to help you process your data. We have added the Split Raster tool, the Build Pyramids And Statistics tool, the Make Mosaic Layer tool, and a whole new Mosaic Dataset toolset to work with your new mosaic datasets. We have even added some new geoprocessing environment settings to create pyramids with compression.
More options when color balancing
You liked the idea of color balancing in previous versions of ArcGIS, but it was limited because you were only able to check a checkbox to color balance your raster catalog with a single-color dodging algorithm. Now ArcGIS 10 allows you to color balance your raster catalogs and mosaic datasets with 3 different balancing methods – and if you choose the dodging method, there are 5 different color surfaces to choose from. Bonus: a new window to color balance mosaic datasets – the Mosaic Color Correction window.


Enhanced Image Service parameters (server admin)
Previously, there were only a handful of parameters that an administrator could set when serving out data. Now you have much more control over the amount of data your clients can request, the type of information that can be requested, and the allowable mosaic and compression methods.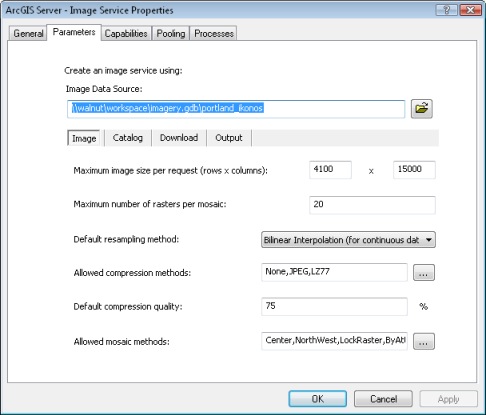 New supported operations (server client)
As a server client, you also have a lot of new operations that you can now perform. Exporting images has been improved to allow you to specify mosaic rules and properties. Additionally, you can now Query, Identify, and Download rasters in an image service.
Create a custom colormap (.CLR) file
Colormaps are great, but you wanted to be able to edit or create a colormap easily. Now you can createedit a custom CLR file within the Unique Values renderer. This CLR file can then be permanently associated with your raster dataset by using the Add Colormap tool. All colormap rules still apply, but now it is easier to get the colors that you want.
Advanced Labeling with the stretched renderer
Another rendering enhancement request that you commonly asked for, was the ability to have multiple labels when using the stretched renderer. The (Advanced) Labeling option not only allows you to add in numeric labels into your stretched renderer, it also lets you set specific colors for you color ramp.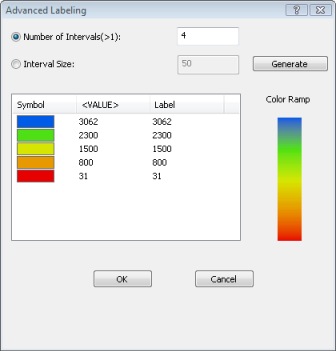 For a more detailed list of what is new with rasters, click here.
Upcoming blogs will go into more detail regarding some of these new items.
Contributed by: Simon Woo