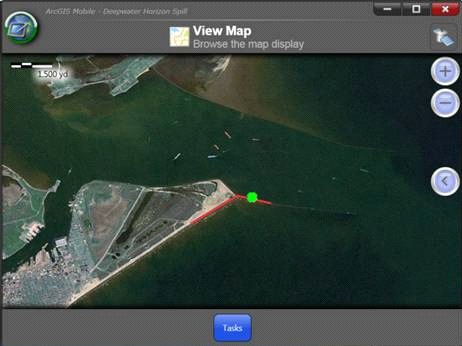 When spilled oil contaminates a shoreline, responders must survey the affected areas to determine the best response. Surveyors must follow standard forms set by NOAA for shoreline and wetland assessment. ArcGIS Mobile is the ideal solution for helping surveyors determine that response in a timely and efficient manner. It is simple, easy to use and deploy, requires little to no training for responders, and information collected can be synchronized to a Command Center in near real-time providing situational awareness and ultimately improving how decisions are made when it matters most.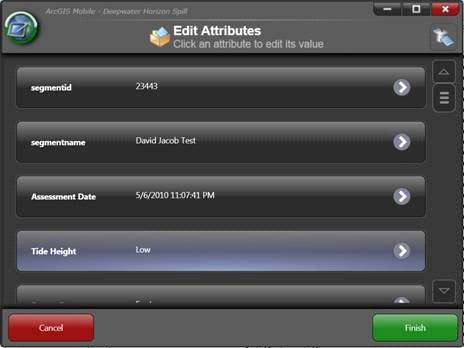 Last week, the Mobile Team created a data model for the SCAT assessment form (short form) which is used by responders. After defining the data model, the Mobile Project Center was used to create a project that can leverage the intelligence of that data model directly inside of the ArcGIS Mobile 10.0 ready to use applications.Responders can now use the GPS capabilities of the application to capture segment lines and zone points, fill out a form that meets the SCAT specification and instantly synchronize their content to the command center.
The pre-release of ArcGIS Mobile 10.0 and a project centered around the SCAT model was then hosted in the cloud and is now being ground tested now in the Gulf and shown to responders.
The Mobile team is also working very closely with a key business partner in the efforts on the ground called URSCorp. Lori Cunningham and her staff have successfully deployed a custom 9.3.1 ArcGIS Mobile application to the attention of Coast Guard officials centered out of Mobile Alabama's Command Center today (Sunday). Their application enables surveyors to collect segments using GPS, attach comments and photos that use the mobile service to synchronize content back to the server in real-time. A PDF for each surveyed segment can be generated from a web application for printing.
Stay tuned for more from the Mobile team on this and other emergency response efforts…