In ArcGIS 10 the Spatial Analyst toolbox includes a Raster Calculator geoprocessing tool in the Map Algebra toolset. This is not the same raster calculator as in previous versions of ArcGIS, so keep reading to find out what it does, how it's improved, and where to find more information.
The Raster Calculator geoprocessing tool in ArcGIS 10 is designed to execute a single-line map algebra expression using multiple tools and operators listed on the tool dialog. When multiple tools or operators from the tool dialog are used in one expression, the performance of this equation will generally be faster than executing each of the operators or tools individually.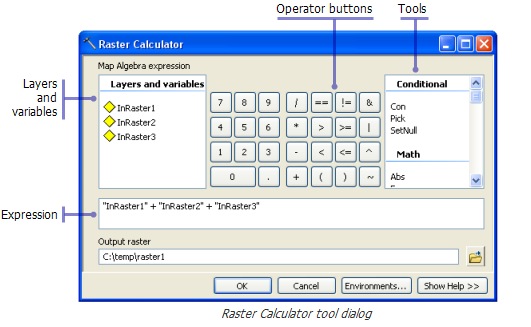 The Raster Calculator tool has been designed to replace both the previous Raster Calculator from the Spatial Analyst toolbar and the Single Output Map Algebra geoprocessing tool. The Raster Calculator tool is like all other geoprocessing tools; it honors geoprocessing environment settings, it can be added to ModelBuilder, and when used in ModelBuilder it supports variables in the expression. The ability to support variables in the expression makes the new Raster Calculator tool much more powerful and versatile than previous Map Algebra implementations.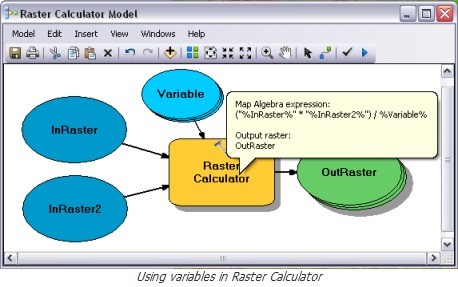 The Raster Calculator tool is used to execute Map Algebra expressions inside ArcGIS applications. The Raster Calculator is not supported in scripting because in ArcGIS 10 Map Algebra can be accessed directly when using the geoprocessing ArcPy site-package. This seamless integration of Map Algebra into Python extends the capabilities of Map Algebra by taking advantage of Python and third party Python modules and libraries; making Map Algebra far more powerful than it has been in the past. The Map Algebra language in ArcGIS 10 is similar to 9.x Map Algebra with minor syntax changes due to the integration of Python; most notably case sensitivity.
If you are interested in learning more about the new Raster Calculator tool or about Map Algebra in ArcGIS 10 please go to: ArcGIS 10 Help Documentation.
Post written by Liz Graham, Product Engineer on the Spatial Analyst team