Some of you may know that ESRI has a facility in Redlands dedicated to software testing sessions – the Holistic Testing lab. As you can imagine, it's been a busy place as we move through our beta program for ArcGIS 10. Last week, the Public Safety team at ESRI had an opportunity to participate in a dedicated session where we focused on how the next release will enhance existing Public Safety workflows, as well as provide new solutions. Oh yeah, and we wanted to log software bugs and enhancement requests, too!
We had ten employees from several divisions within ESRI participate, and we each came prepared to test and develop demonstrations concentrating on specific aspects of our software ranging from Desktop to Mobile, and including data as complex as large imagery datasets or as simple as points representing Volunteer Geographic Information (VGI).
Here we are, happily testing away: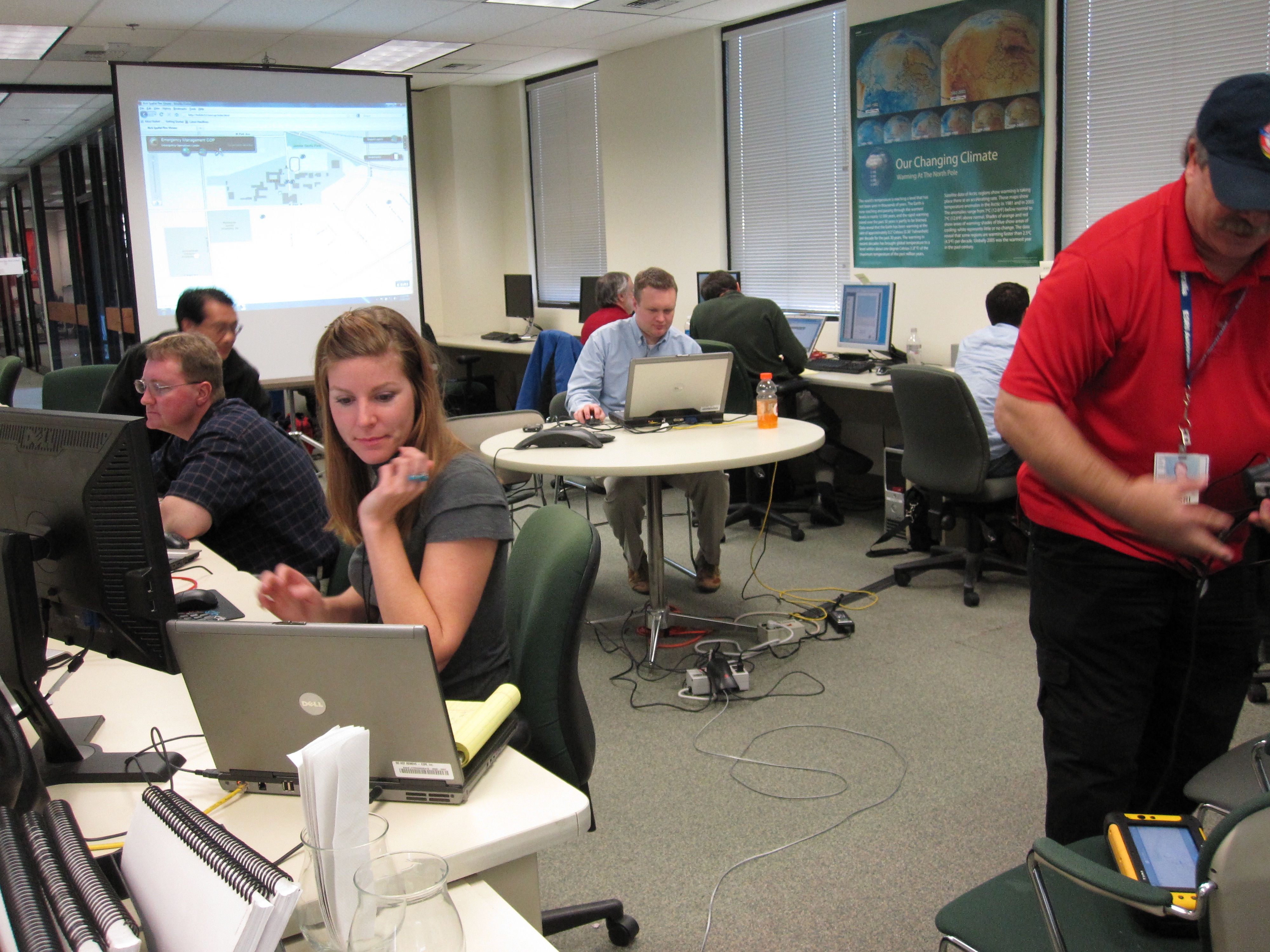 It was a great opportunity for us to spend a week focused on the new features of ArcGIS 10 and how they apply to the Public Safety community, so we wanted to share our progress with you – in this post, I'll highlight our work with ArcGIS Desktop, and in the next post, I'll share the work we did with Server.
1. Geoprocessing with ModelBuilder: Many of you use ModelBuilder as a way to automate repetitive tasks in ArcGIS. One tester worked with the new iterator tools (which make it easier to incorporate programming logic for automation) using a scenario where a storm put several cell phone towers out of service. He wanted to build a tool that would allow him to analyze the best order in which to bring the towers back online, with the goal of restoring communication to as many people as possible. As you can see, the population and the service area of the cell phone towers were both factors; using iterators, he was able to build a model that determined the best order, and take into account how each previous tower brought online affected the next decision.
Below are screen snapshots showing the population distribution, overlapping service areas, and the result of the model, including a graph showing affected population (click to view larger image):
2. ArcGIS Desktop Enhancements: Many of the new usability and user-interface enhancements in ArcGIS 10 seemed perfectly suited for the role of a Desktop GIS/Crime Analyst. I spent time upgrading a project that analyzed gang-related crime in a small U.S. city, and was able to incorporate many of the new features of ArcGIS Desktop, including:

Accessing Data: Whether it was the new integrated Catalog window or the Desktop Search tools, finding and accessing data and maps makes using ArcGIS Desktop much smoother. For example, I used item description tags to set keywords for my data; I tagged a layer file that resulted from a GP model I ran with "gang," "link analysis" and "vandalism" so that any GIS users in my organization can easily search for and use my results.

Temporal Analysis: ArcGIS 10 has a new experience for working with time-based data – a new tab on the layer properties allows you to make any layer with a date/time attribute "time-aware." In my crime analysis project, almost all of my data had a temporal aspect, whether it was the date/time stamp of crime incidents, or the date range that a certain patrol unit was assigned to an area. Once ArcMap knows about these time-aware layers, using the new Time Slider toolbar makes it easy to navigate and visualize data across time.

File Attachments: A lot of the geo-enabled data that a crime analyst works with is related to other information, like a scanned copy of a police report or a graffiti photo. Having access to all of this content within ArcGIS is really convenient using feature class attachments. You can add files (of any type) to individual features, and these attachments are accessible from the Identify and Attribute windows, or as HTML pop-ups, putting relevant information at the analysts' fingertips.

Below are screen snapshots showing the time slider and feature attachments in my project (click to view larger image):
3. Data Driven Pages/US National Grid Map Book: Often, emergency responders rely on printed map books for navigation, communicating position, and locating assets. The U.S. National Grid (USNG) is a ground-based gridded coordinate system that is well-suited for these purposes, so one tester decided to put this scenario work. He used the new arcpy.mapping tools to create a 1:6,000 scale map book, with each page representing a properly-labeled 1,000 meter by 1,000 meter area designed for use with the USNG.

As you can see from the screen snapshots, below, the final map book product included a map index, map pages and a feature index report built using the new Reports wizard (click to view larger image).
So there you have it – as you can see, we really enjoyed finding applications for the new ArcGIS 10 functionality that will serve the Public Safety community. As I mentioned, Part 2 will focus on our work with ArcGIS Server, but in the meantime, we'd like to hear your feedback – what new features of ArcGIS 10 are you most looking forward to, and how will they improve the work you do? Sharing your ideas could lead to a future holistic testing session that is open to our users as well!