Monthly Archives:
March 2010
The latest release (build 1200) of ArcGIS Explorer features some great new capabilities and among them is the new Analysis Tool Gallery. The gallery makes it easy to run an analysis tool – a geoprocessing service authored using ArcGIS Desktop and served via ArcGIS Server.
You've been able to use geoprocessing tools in the previous release (build 900) by creating an add-in. While add-ins provide complete flexibility for implementing the tool's user interface, they require the use of Visual Studio and the Explorer SDK to create one.
The Analysis Gallery enables you to use published geoprocessing tools directly (without having to write any code), making it easier than ever before to extend Explorer's capabilities. Let's take a closer look at how this works.
You'll find the gallery represented by the obvious red toolbox on the Home tab.

Open the gallery and you'll see a buffer tool that's ready to use, but you'll want to add your own. Choose Add From a URL…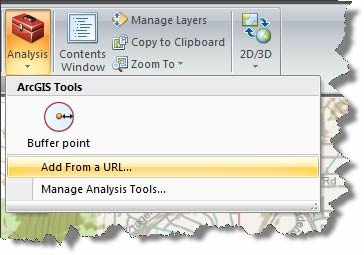 Enter the URL to any ArcGIS Server. Here we've used the URL to sampleserver1 – an ESRI ArcGIS Server that hosts sample Web applications and geoprocessing tools. You can connect to this server and experiment with tools you find there, but remember that this is just a sample server meant for experimentation and it's not supported.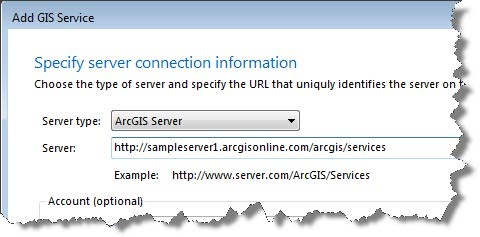 After you connect to the server, you'll see a list of folders which organize the services. Since we're connecting to the server via the Analysis Tool Gallery, we'll only see the available geoprocessing services (represented by a red toolbox) and won't see map services like we would via Add Data. Here we've opened the Network folder, found some tools, and have chosen one called CreateDriveTimePolygons.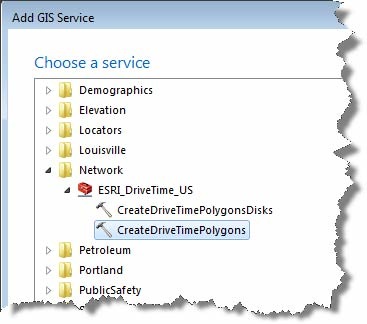 Once connected, you'll see a dialog appear which enables you to set inputs and change parameters to run the tool. These inputs and parameters are defined by the author of the geoprocessing service using ArcGIS Desktop. The user interface is created on-the-fly based on the tool parameters.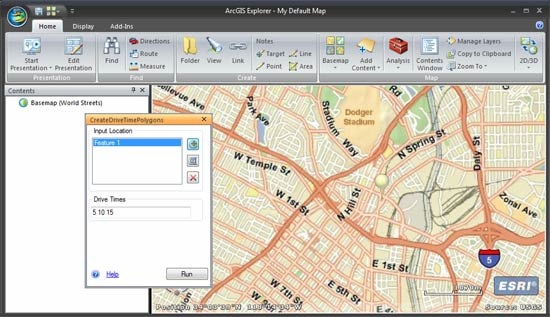 In this case we can click the map to set an input location, and can also set the drive time (in minutes) areas to find. Click the map, set the drive times (we've left the default of 5, 10, and 15 minutes), and click Run.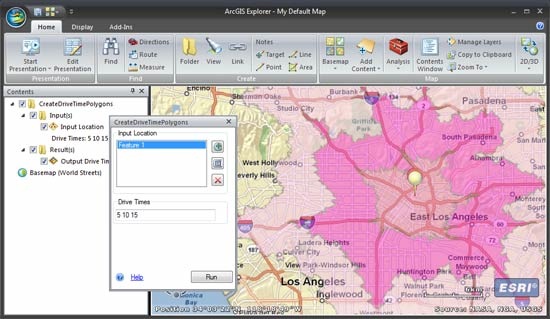 After completion, the resulting drive time polygons are displayed on our map and the inputs and output results are added to our Contents. Once in Contents, they can be managed in similar ways to other layers. For example we can set the transparency: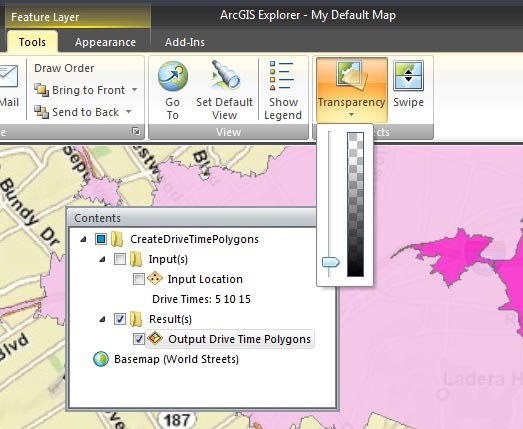 And can also set other properties. Here we've set the feature tip to show the range in minutes for the drive time polygons.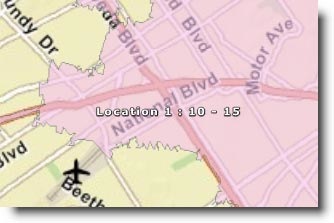 Once we've connected to a tool, it's part of the gallery. Choosing Manage Analysis Tools let's us add or remove tools, change the name, set the thumbnail for the tool, and more.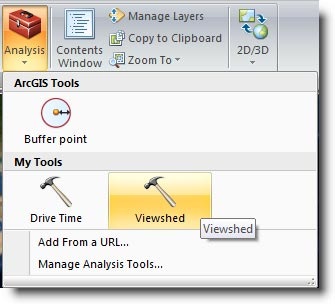 The Analysis Tool Gallery is a simple yet powerful way to extend Explorer to perform advanced GIS functions to suit specific needs or work flows. For more information view the following Help topics: