In continuing support of our users who are helping with the response to the Earthquake in Haiti, here are some ways to consume data from OpenStreetMap. OpenStreetMap consists of widely available basemap data to support the response in Haiti. In this blog post, I'll lay out the options for consuming OpenStreetMap data within ArcGIS. We've posted some of the layers to the Haiti Earthquake group on ArcGIS Online where we are organizing the relevant data. There are two basic ways to consume this data – connecting via web service or downloading the data directly.
OGC Web Mapping Service (WMS)
One of the ways to connect is via Open Standards like WMS. There is a layer package on ArcGIS Online for the Live Updating OpenStreetMap data. This comes from this WMS service – http://tile2.dbsgeo.com/? and can easily be added to ArcMap by adding the layer from ArcGIS Online. You can then combine this with other layers to support your work. By adding this layer to ArcMap, you see what's shown below – both the live, updated Damage Layers and also the basemap layers. The individual layers within these groups can be turned on and off depending on the mission and need.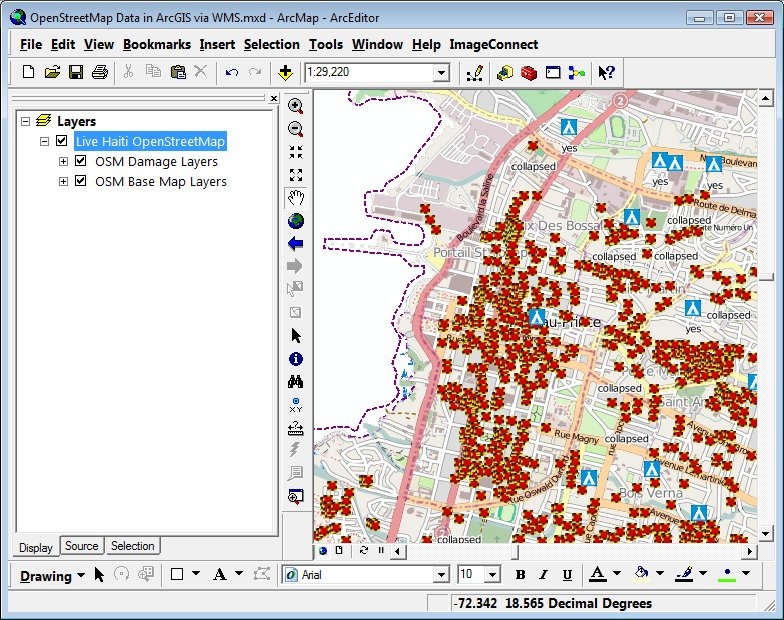 Download an Export of OpenStreetMap Data
Another option to access OpenStreetMap data within ArcGIS is to get an extract of the OpenStreetMap XML data either directly or via http://labs.geofabrik.de/haiti/ – which has updated extracts for Haiti in both OSM and ShapeFile Format.
The ArcGIS Data Interoperability extension supports the direct read of the OpenStreetMap XML format. The easiest way to bring this in to a geodatabase is to right-click on the *.osm file and use the Export > To Geodatabase (multiple) tool in ArcCatalog as shown below.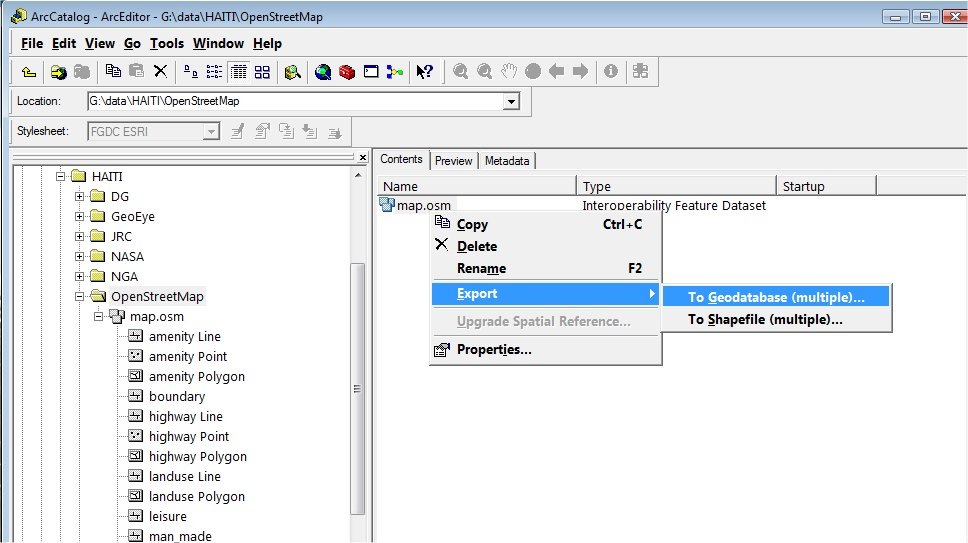 To support our users who are supporting the response effort, we've been providing a layer package with the data downloaded from http://labs.geofabrik.de/haiti/. We provided that as a layer package that can be downloaded from ArcGIS Online here. This will facilitate the use of this data offline in ArcGIS Desktop or even field use with ArcGIS Mobile or ArcPad. We've been updating this data once a day (note – for the most up to date version of the data use the WMS service above). Once the layer package is added to ArcMap it will look like the image below: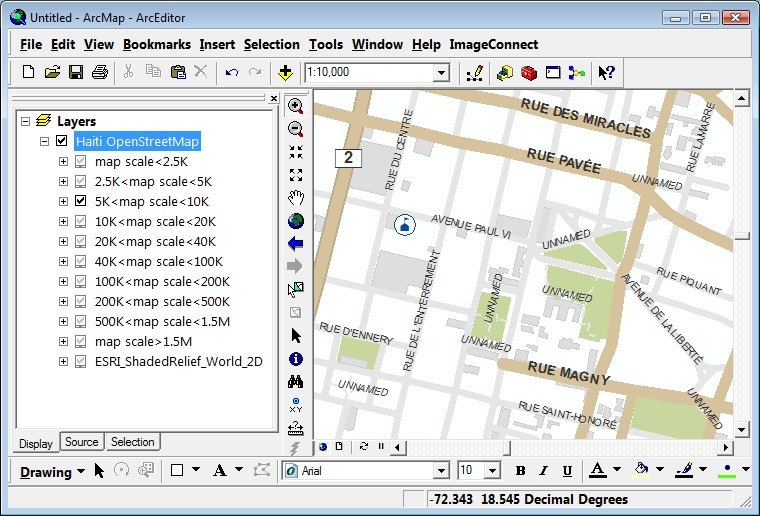 Here are a couple links to other related resources:
We hope that this post improves your productivity as you support the response to the Haiti Earthquake. For the latest information on how ESRI is supporting our users with the response, visit our Haiti Disaster Relief and Support site. If you need disaster assistance, please fill out our Request Assistance form.