One of the first things you'll notice about the latest release is the new ribbon. We think you'll find it intuitive and easy to use, and that it makes ArcGIS Explorer a snap to figure out. Here's a primer on the ribbon to get you started.
Organization
The ribbon is organized into tabs. Tabs organize the ribbon controls (or commands) into logical groups by activity. When you first startup ArcGIS Explorer you'll see the Home tab and its controls.

The controls in the ribbon are organized into groups. Here's the controls in the Find group on the Home tab. The red arrow points to the group name.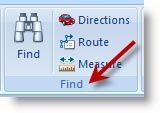 The ribbon tabs are found starting at the top left. Here we see the Home and Display tabs. If you hover over a tab (like we've done over the Display tab as indicated by the arrow) it will become highlighted. Just click a tab to display the ribbon.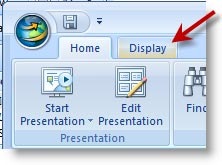 Ribbon tabs and their controls are revealed in the context of what you are doing, meaning that what you see will depend on what you are currently working with. More on that when we cover the different kinds of data and services you can use.
Help
When you move your mouse over a control you'll see the integrated tips. All have text, and many have graphics, to help you quickly understand what the control does. You'll also find that many have F1 Help links like that shown here.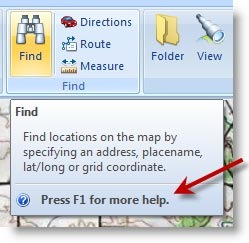 When you see these, just click the F1 key on your keyboard to open up the specific Help topic with additional details and usage information.
Hiding the ribbon
If you right-click with your mouse on the ribbon you'll see a choice to minimize the ribbon or show it again.

Quick Access Toolbar
The Quick Access Toolbar is located above the ribbon.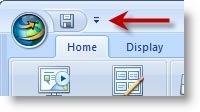 To add a control to the Quick Access Toolbar right-click the control and choose Add to Quick Access Toolbar, like we've done below with Find.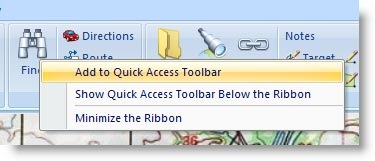 You can see we've added Find to the Quick Access toolbar, and you see the tip display as we hover over it.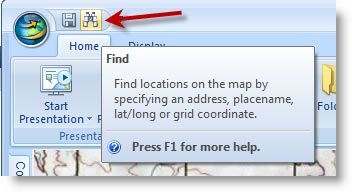 You can add your frequently used controls to the Quick Access Toolbar, move it below the ribbon, and even hide the ribbon entirely.
We think you'll find the ribbon easy to work with, and that it will help guide you through all the things you can do using ArcGIS Explorer.