by James Killick
I'm just back from the Esri Business Partner Conference + Developer Summit in Palm Springs, CA. For the many of you that didn't get a chance to attend: you should know there are some great things coming down the pike from ArcGIS that will be of benefit not only to GIS users, but to all of you ArcGIS Business Analyst users too.
One of the beauties of the fact that the Business Analyst products are built on ArcGIS is that users get to rise with the tide of this great platform that Esri has developed over the last 40 years.
Here are two great new features in ArcGIS that you'll be able to take advantage of in the very near future:
(1) Share and publish maps with your colleagues using ArcGIS Online
Use case: you've done a bunch of analysis using Business Analyst desktop and now you need to get the map in front of your (non-geeky) colleagues or execs. Using the new Sharing and Publishing features of ArcGIS Online [coming later this Spring] you can quickly upload you map to the ArcGIS Online "cloud" and share it securely with your colleagues via a simple web-mapping app. Think of it like Flickr only with interactive maps instead of static photos – and just like Flickr you can share information publicly or with just a select group of people. Here's a screen shot of some typical shared content. Notice the "View in Browser" button: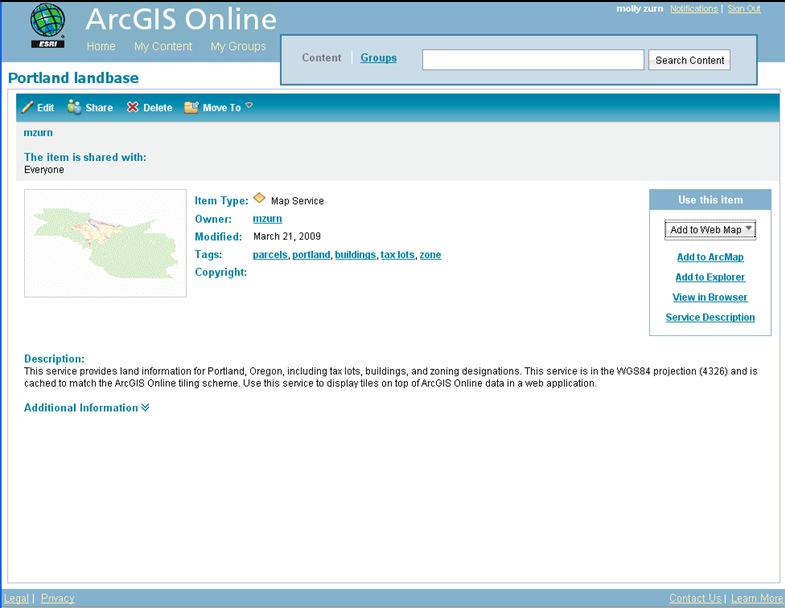 (2) Creating Powerful 3D Mapping Presentations using ArcGIS Explorer 900
This will enable you to supercharge your presentations and make you look like a rock star to your execs. ArcGIS Explorer is Esri's 3D Globe app – many of you might compare it to Google Earth. A tremendously useful feature of the new 900 version is now you can use it to create superb, animated, 2D or 3D presentations.
Use case: you need to give a board room level presentation of your proposal – e.g. where your retail outlets are and potential locations for filling the gaps, or perhaps where you need to consolidate.
In just a few minutes you can share the information from your Business Analyst desktop and build an interactive presentation in ArcGIS Explorer. The presentation can tell the story you want to tell while still providing interactive control to further explore. Here are a few screen shots: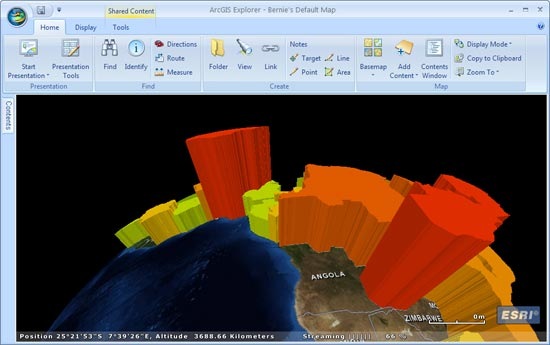 The screen shot above shows some data displayed in a 3D map on ArcGIS Explorer.
From this tool you can build presentations. The presentations can include interactive maps and globes, custom map layers, titles and overlays, embedded photos and videos, even slides from a PowerPoint. When you're done creating the presentation you simply click this button:

And then, just like in PowerPoint, you go into presentation mode: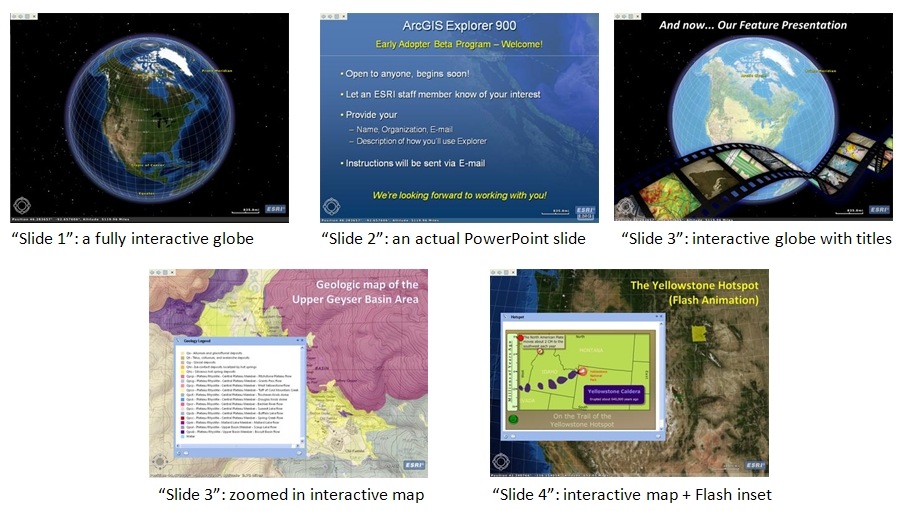 For more information on ArcGIS Explorer 900 you can stay tuned by linking to the ArcGIS Explorer blog.
Keep your eyes peeled. This is great stuff.
-James