Monthly Archives:
March 2009
So you like the dashboard, but you want it to look different, maybe give it that home town feel. Changing the icons and title is easier than you think. All you need to do is update a few xml files.
Start with the Config.xml file in the root of the Flex application, located in <InstallLocation>WaterOperationsDashboard. Before you make and changes, save a copy of the original Config.xml file, then if you do mess something up, you have a backup. Modifying the Config.xml file in notepad or a similar text editor can be painful. It is much easier to use an XML Editor to make the changes.
Here I am using a product called Aptana Studio, you can see that the tags are color coded, so they are easier to read.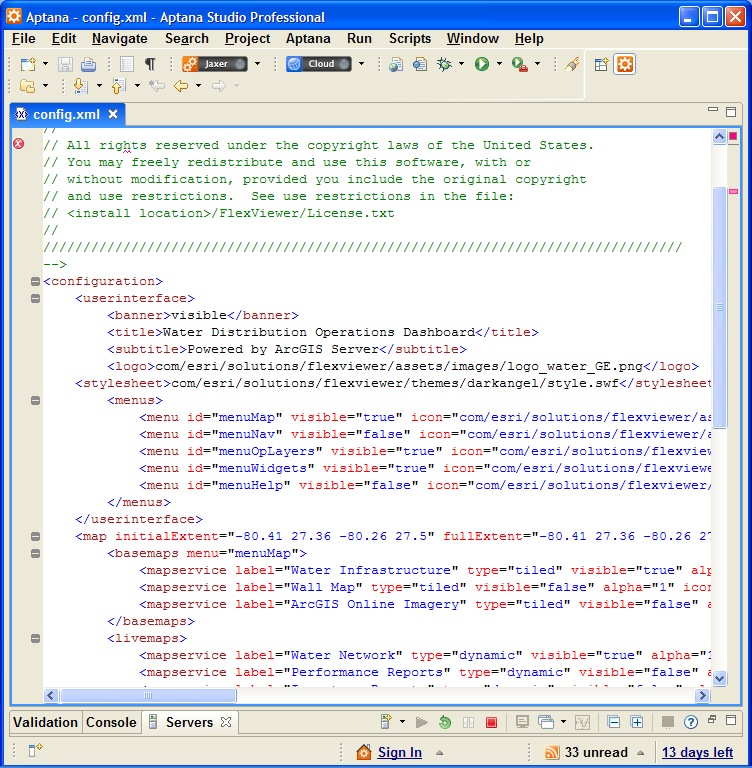 Lets start with the Title.
Under <configuration> and <userinterface>, you will see a tag called <title>. Put whatever title you want in there. Save the changes and open up the Flex application in your favorite web browser, you should see the new title.
<configuration>
<userinterface>
<banner>visible</banner>
<title>Water Distribution Operations Dashboard</title>
<subtitle>Powered by ArcGIS Server</subtitle>
Now while we are here, we change the Logo, this is the left icon on the banner.
On the tag below, look at the path. This path points to a location in the Flex Applications Directory.
<logo>com/esri/solutions/flexviewer/assets/images/logo_water_GE.png</logo>
Translate that path to a windows path, it should look like below.
<InstallLocation>WaterOperationsDashboardFlexViewercomesrisolutionsflexviewerassetsimages
You can either replace the image or change the image with a image editing software. If you replace it, watch your size, this one is 64×64. If you want to modify the default image than edit logo_water_GE.png in you favorite image editing software. You can use Windows Paint, but it can not create transparencies. I like to use a program called Paint.NET. It handles transparency well and it allows you to layer images and combine them.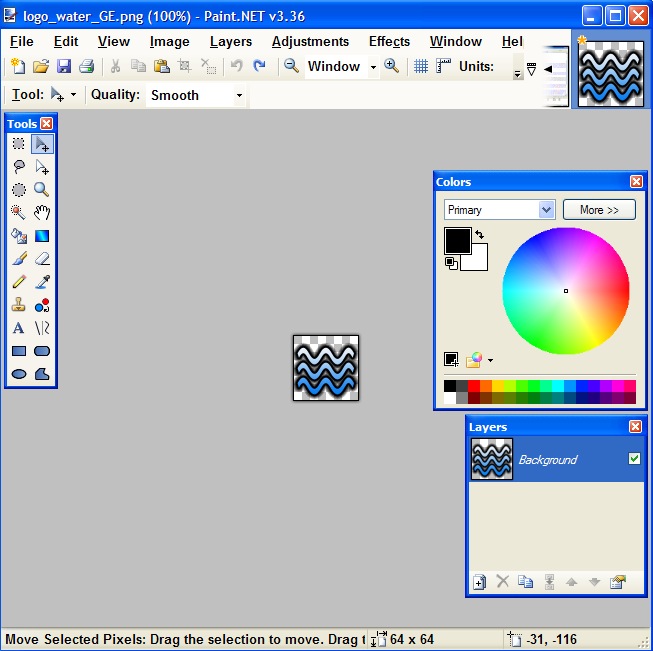 That should do it. Open your dashboard and you will see the updated image.
You can repeat this process for the rest of the tags in the config file.
Good luck, if you are proud of your icons and skins, post them. We would love to take a look at them.
Posted in
Uncategorized
Tagged

ArcGIS Server, asset management, dashboard, enterprise asset management, Flex, REST, stormwater, utility, wastewater, Water, water distribution, work orders
Leave a comment