Monthly Archives:
January 2009
Many of the existing ArcGIS JavaScript API samples for the Query task show how to query polygon features. This post explains one way to query points and lines with a mouse click on the map.
Querying a point or a line is a little more difficult than querying a polygon because the mouse click is required to fall directly on the line or point in order for a result to be returned. To makes things easier for your users, you can build a "tolerance" envelope around the clicked point.
       var centerPoint = new esri.geometry.Point
                (evt.mapPoint.x,evt.mapPoint.y,evt.mapPoint.spatialReference);
        var mapWidth = map.extent.getWidth();

        //Divide width in map units by width in pixels
        var pixelWidth = mapWidth/map.width;

        //Calculate a 10 pixel envelope width (5 pixel tolerance on each side)
        var tolerance = 10 * pixelWidth;

        //Build tolerance envelope and set it as the query geometry
        var queryExtent = new esri.geometry.Extent
                (1,1,tolerance,tolerance,evt.mapPoint.spatialReference);
        query.geometry = queryExtent.centerAt(centerPoint);

In the above code, you figure out the width of one pixel in map units given the current scale. You then multiply this by the total tolerance width in pixels. So if you want a tolerance of 5 pixels on each side, you multiply by 10. This gives you the width of your tolerance envelope in map units.
You then use one of the esri.geometry.Extent constructors to make the square tolerance envelope. Any feature that intersects the envelope will be returned as a query result.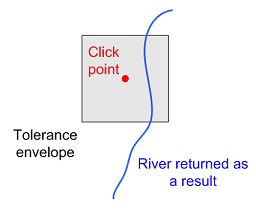 It's worth noting that the Identify task has a built-in tolerance that you can easily modify using IdentifyParameters. However, the Identify task does not allow you the flexibility to determine which fields are returned. The Query task lets you narrow the fields.
Contributed by Sterling Quinn and Jeremy Bartley of the ArcGIS Server development team