Here's a preview of an article that will appear in an upcoming issue of ArcNews by Tim Asimos, marketing manager, and Lowell Ballard, director of geospatial solutions, at the Timmons Group, an ESRI business partner based in Richmond, Virginia.

The article details their ArcGIS Explorer implementation for Goochland County, Virginia, that integrates Goochland County's GIS data (and data from others), ArcGIS Server-based geoprocessing tasks, and other emergency management systems such as ESi WebEOC 7 Professional. Here's some screenshots and descriptions that explain how Explorer is being used.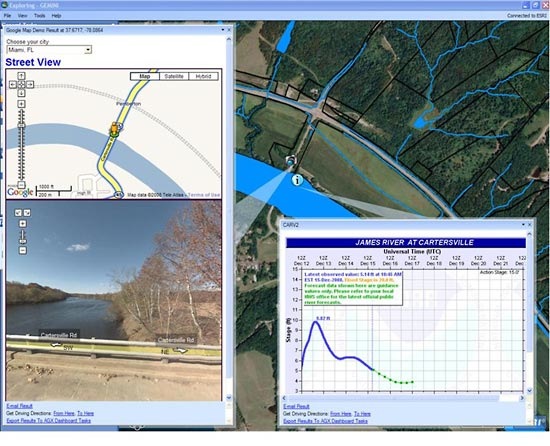 The James River, which has a tendency to spill over its banks from time to time, serves as the southern meandering boundary of the County. Emergency managers are interested in monitoring the stage height of the river at a USGS stream monitoring station. Above we see a graph of the gauging station data displayed within Explorer. The graph is retrieved and displayed in the popup window when the gauge location is clicked. Also shown is a Google Map and StreetView imagery at the same location. Both of these are implemented as tasks within ArcGIS Explorer.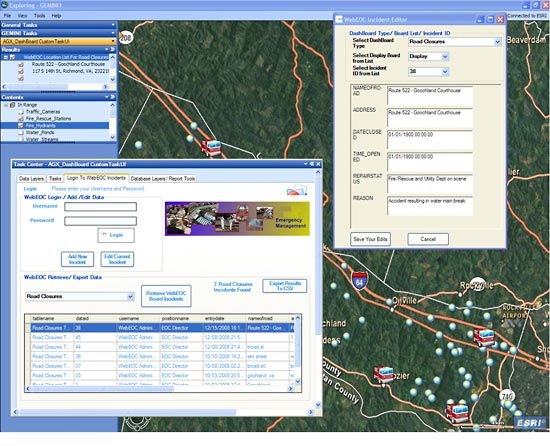 Above, a dashboard interface is shown, allowing authenticated users to view, update, and create incident information that is pulled from and pushed to the County's ESi WebEOC database. The incidents, road closures, shelters, etc., can be located on the map, where those locations can be further analyzed. Also shown on the map are Fire Station and hydrant locations.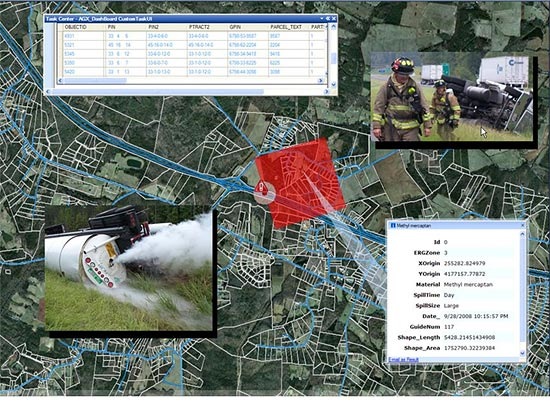 In using ArcGIS Explorer as an emergency planning tool, exercises can be conducted that simulate a hazmat spill on an interstate. One of several available models can be used to generate a plume, which can be used to select underlying parcel data, which could be used to create a reverse 911 call list. Photos from the scene can be also be added to give decision makers a visual of the incident.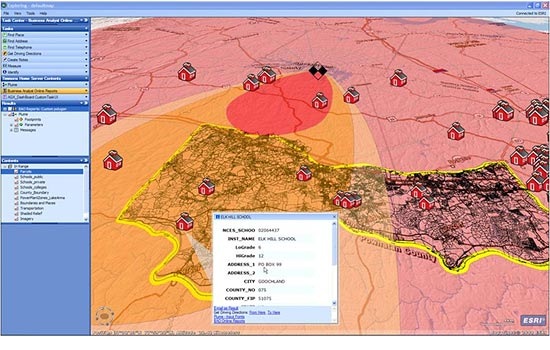 ArcGIS Explorer allows for the inclusion of Virginia Emergency Management response grids, nuclear facility locations, and other base layers. Using this information, alongside other custom Explorer tasks such as Plume models (that incorporate live wind speed / direction feeds) managers are better able to plan and respond to events. The image above shows how daytime population risks associated with an event at the nearby Lake Anna nuclear facility can be examined in Explorer.