By Matthew Hampton, Senior Cartographer, OregonMetro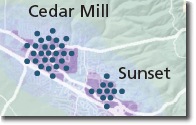 I was recently asked to lend a cartographic hand to a project my agency is working on. I work for OregonMetro (the Metropolitan Planning Agency in the Portland, Oregon area) and among other things, we are charged with planning the future of the region. One of the facets of the planning program involves helping the 25 cities in our jurisdiction collaboratively plan for future growth. We have identified 39 urban centers and we defined a list of urban amenities that have been shown to have a positive impact on residential pricing and convenience or family-oriented amenities. These include the following:
bars
bakeries
bike shops
book stores
brew pubs
child care
cinemas
clothing stores
coffee shops
delis

dry cleaners
fitness gyms
garden stores
grocery stores
fast food restaurants
full service restaurants
limited service restaurants
wine bar/sales
music stores.
Data for each Urban Center were extracted using Esri's Business Analyst and the resulting file contained 2,050 points.
Most of these point classes were coincident or overlapped on a regional-scale map, but I wanted to figure out a way to depict them as they explicitly portray a spectrum of urban amenities (see pic1). After trying a few different techniques for placement (including using Maplex to disperse the points drawn as labels), I found your blog post on the Disperse Markers tool that is new to 9.3. It worked wonderfully and the final representation resonated very well with our designers as well as our constituents. Here is how the map turned out: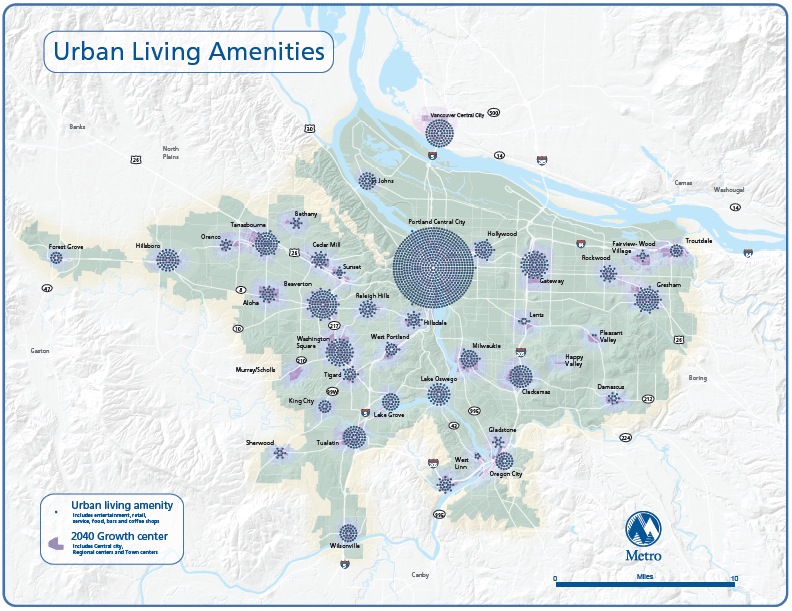 I tried symbolizing the different amenities into 5different classes and the resulting pattern is quite random. Here is how it looked: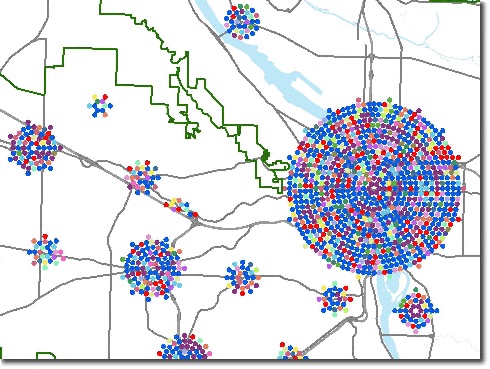 Unfortunately, there's no easy way to group the classes bytype such that the resulting pattern explicitly shows the different characteristics of the urbancenters. It would be great to see that available in the next release.