The ArcGIS API for Flex is a powerful framework for building rich internet applications (RIAs) on top of ArcGIS Server that look good, run fast and are fun to use. The Flex Resource Center includes help and samples for the API and is part of the ArcGIS Server Resource Center web site. If you used our beta, take a look at What's New.
What can you do with the ArcGIS API for Flex?
Display an interactive map of your own data.
Execute a geoprocessing model on the server and display the results.
Display your data on an ArcGIS Online basemap.
Search for features or attributes in your GIS data and display the results.
Locate addresses and display the results.
Visualize results in creative ways.
Create mashups.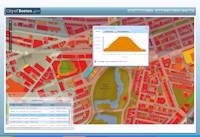 Solar Boston map is built with the ArcGIS API for Flex. It's an interactive mapping application that showcases active renewable energy installations in Boston.
What is included in the ArcGIS API for Flex?
Maps — Supports both dynamic and cached (tiled) map services from ArcGIS Server 9.3 and works with map projections. It also works with any version of ArcIMS.
Graphics — Gain the ability to draw graphics or provide popup windows when users click or hover the mouse.
Tasks — Support for common GIS tasks: querying, finding addresses, finding attributes, identifying features, and geoprocessing.
Access to Flex components — The API is built on the Adobe Flex framework which allows you to use rich Flex components such as data grid, trees, panels and charts.
How do I learn how to use the ArcGIS API for Flex?
The best way to learn the API is to visit the ArcGIS API for Flex Resource Center and download . If you're new to Flex programming and ArcGIS Server, the concepts will help you understand what Flex is and how to start working with it in ArcGIS. When you want to see more code, take a look at the live samples. The samples cover a range of topics and provide a great starting point for your applications. A detailed API reference describes each class available in the API. The community page gives quick access to relevant forums, knowledge base articles, the ArcGIS Server blog, and a code gallery where user can share their applications. To use the Flex API you simply download the free ArcGIS API for Flex library and start creating your Flex applications using Flex Builder 3 (or your Flex tool of choice).
What support is available?
In addition to the Resource Center, the user-to-user forum is a great place for interacting with fellow Flex API developers, and also check out these additional ESRI resources.
Contribued by Bjorn Svensson of the ArcGIS API for Flex team.