Monthly Archives:
September 2008
If you haven't heard, the ArcGIS Development Team has just released a new .NET utility called the ESRI API Evaluator. This handy tool allows you to scan all of your ArcGIS .NET code and generate a complete set of API usage statistics. This will reveal the DLL dependencies, version information and the number of calls made to all ESRI assemblies, interfaces and members.
Help improve the product
One of the most important features of this tool is that it allows you to send your API usage information directly to the ArcGIS Development Team. Once received, this information will be used to:
1. Better understand the APIs that our customers are using (most popular).
2. Make improvements to focused areas of the SDK (documentation and samples).
3. Make decisions for future API development projects.
API Evaluator Scenarios
Scenario I – Help improve the SDK
You have been working on a number of ArcGIS projects and have had difficulty implementing various parts of the SDK. Use the API Evaluator to let ESRI know what areas of the API are most important to you by uploading the usage statistics without actually sending us the code!
Scenario II – Improve your code
You have been working on an agile development project with a team of developers. You would like to discover which parts of the API have been used the most by the team and if code reuse has been maximized. Use the API Evaluator to determine the number of calls to all interfaces, methods and properties in the .NET assemblies and look for areas of improvement.
Scenario III – Deployment
You would like to determine the .NET Framework version, and ArcGIS license and extension requirements for an application. Use this information to help determine the software and licensing requirements for deployment systems.

It's easy to use!
Step 1. Start the tool and run a new scan.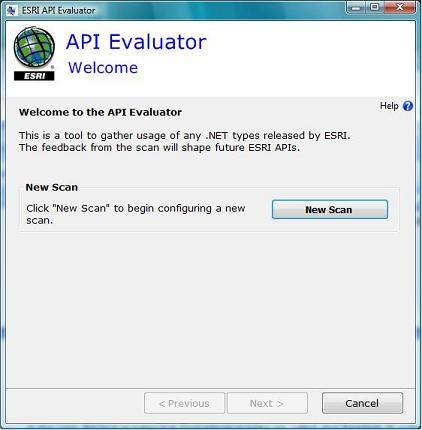 Step 2. Select the folder(s) you wish to scan.

NOTE: If you are scanning a Visual Studio 2005/2008 web application, build and publish the website to generate the precompiled assemblies first.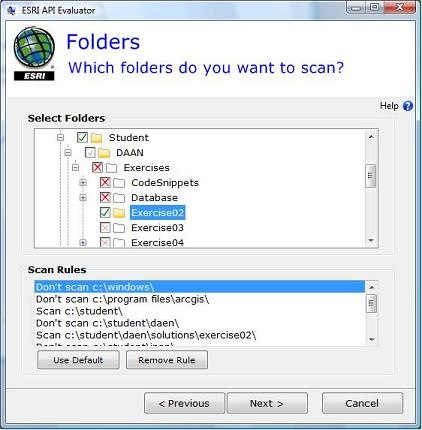 Step 3. Optionally, supply your contact information if you plan to upload your scan to ESRI.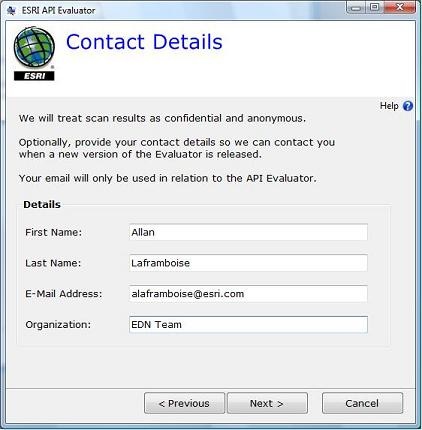 Step 4 – Confirm your selections.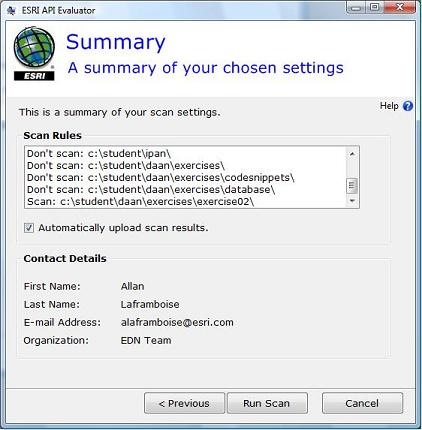 Step 5 – Review the results.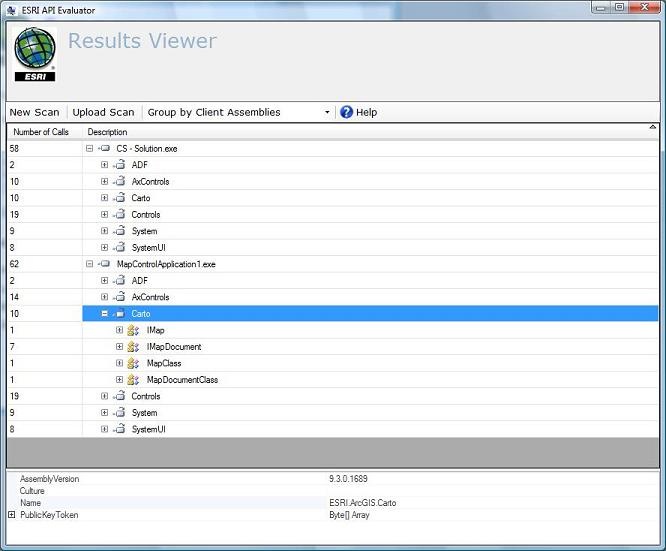 Step 6 – Upload results to ESRI. Simply select the "Upload Scan" menu.

A few reasons to give it a try
I'm sure you can think of many different uses for this tool, but in general, you can use this tool to:
1. Determine the general API usage for larger or unknown code samples.
2. Determine the licensing required to run an application.
3. Locate redundant code sections and make improvements.
4. Detect library dependencies to help with deployment scenarios.
5. Detect .NET version dependencies.
6. And most importantly, help improve the product (see below).
More Information
Where can I download it? You can download the tool from the ArcGIS Engine Code Gallery.
Where can I find more information? You can find the documentation on the ArcGIS Engine Resource Center online.

We want your feedback!
Although the "Upload Scan" functionality is 100% optional, we do appreciate all feedback from the developer community, so we hope you find this tool useful and you can spend a few minutes uploading the results back to ESRI.
Let us know if you have any questions or feedback.
Thanks for your participation!
ArcGIS Development Team