Monthly Archives:
August 2008
An extremely important and challenging step in building an effective mobile solution is the deployment of it. Deployment involves packaging all of the information required to complete operations in the field and getting that information into the hands of your field workers so they can be efficient and productive with the software and data you give them.
I would like to focus this blog entry on deployment of the ArcGIS Mobile application, mobile projects and data to Windows Mobile handheld devices. If you need to deploy a custom mobile solution to laptops or tablets, you should take a look at a code gallery posting we have for building a mobile runtime.
Overview
There is no "one solution fits all" when it comes to deploying mobile solutions. Factors such as the size of your field workforce, the devices that they use in the field, the volume of data required for field use, and the frequency you need them to synchronize with the office all influence the choices you will make. Let's not forget to factor in IT infrastructure either!
It all boils down to 2 methodologies. Either you "push" information to devices or you "pull" information from a server to your device. There are a number of 3rd party deployment systems in the marketplace today that you can use to "push" deployments to devices (Microsoft, SOTI, and Motorola are a few companies that offer solutions). With ArcGIS Mobile, we offer a web-centric solution for the "pull" model out-of-the-box by creating a web site and web service that hosts your mobile projects and the ArcGIS Mobile application. More on that a little later.
Windows Mobile and CAB files
First it is important to understand that Windows Mobile devices use cabinet files (.CAB files) as a compressed installer for applications and CAB files can be used for other information (such as map data). Marcus Perryman wrote an interesting blog article on MSDN explaining cabinet technology so I won't go into details on the technology here.With ArcGIS Mobile at 9.3, we include a .CAB file for the out-of-the-box application and provide that CAB file as a link on a web page that you can download from your mobile device. Deploying the ArcGIS Mobile application to a mobile device is as simple as clicking on the CAB link from your device.
Note that at 9.3 we also include a CAB for the SDK runtime as well. You can use the SDK runtime in the deployment of your custom Windows Mobile application.We recently posted a code gallery entry on how you can create a .CAB file for your application that includes this SDK runtime CAB using Visual Studio.
ArcGIS Mobile Web Site
When you install ArcGIS Server at 9.3, a new web site is created to help you manage your mobile deployments (http://yourWebServer/yourInstance/Mobile). This web site is optimized for mobile browsers as well. It contains a link to the .CAB file for the ArcGIS Mobile application, and links for each of the projects that you create inside of the Server Manager as shown below. Projects are xml files that configure the ArcGIS Mobile application with data and tasks.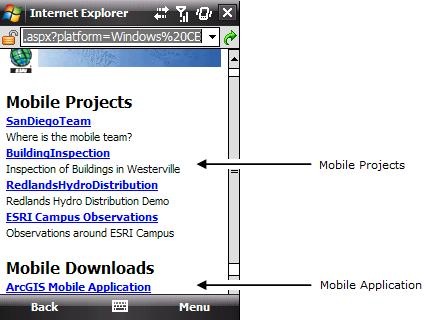 From your Windows Mobile device, you can use the web browser and navigate to the web site on your server, download and install the application by clicking on the link, and download the mobile project which configures the mobile application to use appropriate map data and tasks for your work in the field.
Using the ArcGIS Mobile application you can open the project and pull map data from the server using the Synchronize task. Pulling map data from the server to the device can take time if are wireless so be careful…
What would be more efficient is to pre-cache the data, create a .CAB from it, and somehow get this CAB file to the mobile device. But how?
Creating a Data Deployment Cache
Within ArcGIS Desktop, you will find a new toolset in the ArcToolbox window that contains 2 new geoprocessing tools for building mobile datasets:

Ignoring the Create Mobile Basemap tool for a minute, lets discuss the Generate Mobile Service Cache tool. This tool inputs a connection to your mobile service, lets you pick a set of map layers and an extent, and creates an output cache into a defined folder location. For your mobile projects, you can create caches using this tool for deployment to devices.
The Create Mobile Basemap tool can be used to build a highly compressed mobile base map. This tool uses a map document as input and creates a folder of SDC files. Inside of the project you define you can specify a base map when determining the layer source. Please read more about preparing maps and data to understand how you can leverage base maps inside of ArcGIS Mobile.
Building a Data Deployment CAB
Once you have built a mobile service cache, you can then create a data deployment CAB. If you are savy in the ways of Visual Studio, you can use it to create a CAB file from your mobile service cache. But if not, we have put a utility application that you can use to create your own cache on the code gallery called the Data Deployment Utility. Using this tool, you can create a CAB file for your mobile cache.
Tweaking the Mobile Web Site
The ArcGIS Mobile application CAB file and each of the mobile project files are stored on your web server. You can find these files at: \yourServerInetpubwwwrootyourInstanceMobile. Projects are stored in the Project folder, the CAB file is located in the Software folder.
Also at that folder location you will find 2 ASP web pages – Default.aspx and MobileDefault.aspx. As you might expect, MobileDefault.aspx is the web page loaded when you access the site from a mobile web browser and Default.aspx is the web page loaded from a Desktop. You can extend either web page with your own information and/or links to other downloads.
The <body> tag inside of MobileDefault looks like this:
<body>
<form id="form1″ runat="server">
<div>
</div>
</form>
</body>
You can extend the page with your own content with something like this (in bold) where the:
<body>
<mobile:Form id="mobileForm" runat="server">
<b>
<a href="MobileApplication.ashx?file=ProjectXData.CAB">
Project X Data CAB</a>
</b>
</mobile:Form>
</body>
If ProjectXData.CAB is located in the software folder, the end result will be a new link for your data CAB directly below the project list like so:
From your mobile device you can click on the new link added to the MobileDefault.aspx web page and it will download and install the mobile service cache onto your device.
Summary
Deployment is an important step in building an effective and efficient mobile solution. There are a number of factors to consider when choosing a deployment methodology and there are deployment systems that you can purchase to make the deployment process easier. ArcGIS Mobile provides a very simple, out-of-the-box experience for deployment that you can extend for your needs. Remember that deployment can make or break the success of a mobile solution. Spend time in analyzing how deployment best fits into your field operations before making any decisions.