Monthly Archives:
June 2008
One of the new tasks delivered with ArcGIS Explorer 480 is the Add Photo task. The Add Photo task places photos that have been geotagged on the map. Have a look at the video, then follow along in this post.

Let's take a closer look. First, add the task from the ArcGIS Explorer Resource Center. Choose File > Resource Center and from the Content tab choose Tasks. You can also open the Resource Center by choosing Help > ArcGIS Explorer Resource Center, then click on the Content tab, then Tasks. The Add Photo task is circled below, just click to add it to Explorer.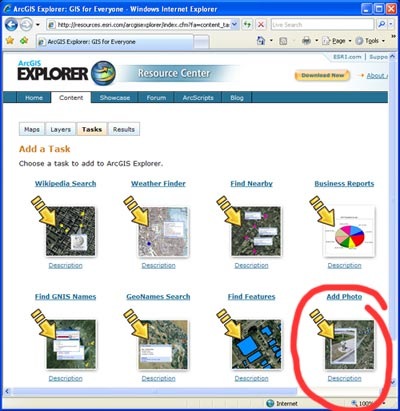 Your photos must have been taken with a GPS enabled camera that can capture the location in the image header (written to the EXIF header). An increasing number of cameras (like the Ricoh GPS camera, some Nikon models, and others) and even camera equiped cell phones (like the Nokia N95) are GPS-enabled.
If you don't have one of these devices the location can be added to your photos afterwards using applications like Google Picasa and others.
Activate the task and click Browse to navigate to a folder containing geotagged photos. The folder's contents are displayed in the task (note that only JPEG format images are supported). Just check the photos you want to add, and click Place Photos.

A collection of results will appear, and the photos will be placed on your map.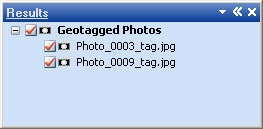 When you click the result the photo will open in the popup window. Here we've added a couple of geotagged photos taken during a recent search and rescue operation in the San Bernardino Mountains near Redlands. These photos were taken by a member of the SAR team, and are now placed on our Explorer map.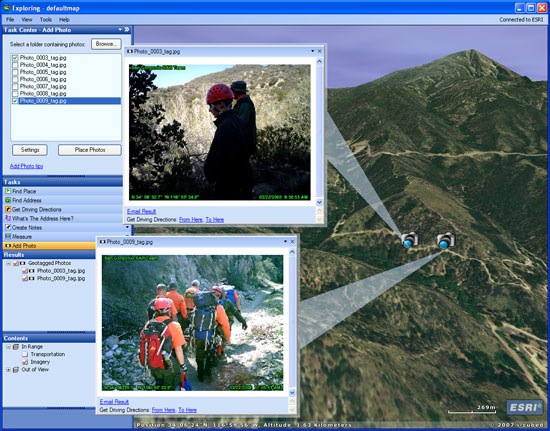 The Add Photo task allows you to specify settings which let you control whether subfolders are searched, and how various image sizes are handled and displayed in the popup window.