By Charlie Frye, Esri Chief Cartographer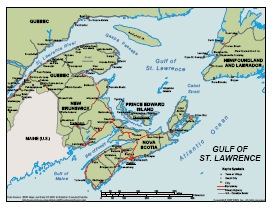 The Gulf of St. Lawrence map was originally created for an Esri tutorial on how to publish a map to ArcReader.  The intent was to include a simple locator map with a few basic functions.  These cartographic effects and tasks are highlighted:
The MXD file and data area also available for this map.  The data was extracted from the 2001 edition of Esri Data & Maps.  The original version of this map was created using shapefiles, so all the text was stored as map document annotation. The idea was to make that map as portable and share-able as possible.  The major update for this edition was made was to move the shapefiles into a personal geodatabase, allowing us to use cartographic representations to adjust the city point locations to make a nicer looking map.
On to the next map!