By Charlie Frye, Esri Chief Cartographer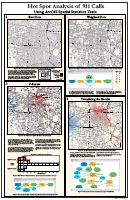 The Hot Spot Analysis poster shows the steps in the analysis of 911 Call data. The data were processed using the Hot Spot Analysis tool and the design of the poster is, we think, faithful to the underlying data.
I did the first edition of this poster almost three years ago, and since then it has been tacked up on the wall at the end of one the hallways here in Redlands. When Jack brought his tours through the Software Products & Development area, he'd often show this poster, extolling the analytical power of GIS. The original poster was a little overly flashy, but more importantly after we recently checked with our spatial statistics experts, we found it was symbolized in a way that was slightly misleading. Thus, we undertook an upgrade and presented it at the Users Conference in our "Mapping the Results of Your Geographic Analysis" technical session.
As I was putting the finishing touches on the poster in order to publish it in the Maps section of Mapping Center; I found a data error that related to how I misconstrued some of the expert advice I had gotten about which value ranges were most important. So, the poster got another upgrade and what you see on Mapping Center now is a version that I am quite satisfied with. It just goes to show that making maps will keep you humble.