By Charlie Frye, Esri Chief Cartographer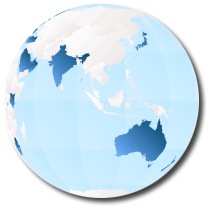 Esri's Graphics team needed some maps for a slide for one of this year's Users Conference presentations to show where GIS was being used in K-12 programs in the U.S. and throughout the world. I was asked to spruce up the maps for the slide and was told these maps should be really simple because everyone in the audience would be looking for their country, or in the case of the U.S., their state or city, so no text would be needed, in fact just provide TIFF files of the maps.
I joined the K-12 data to the template data that ships with ArcGIS Desktop. You can usually find this in C:Program FilesArcGISbinTemplatesData, I just used the states, countries, and world30 datasets. I was given a point shapefile for the U.S. data.
Design-wise, I knew they needed something eye-catching, but I was also challenged by trying to eliminate any extra lines on the map, e.g., polygon outlines. The graphics in this posting show two of the final maps.
I used gradient files to accomplish the effect in both maps. My inspiration came from those facetted globes you can sometimes find in gift shops in which different kinds of stone are used for each country or state.
For the city points on the U.S. maps, I made a graduated symbol map in which circle sizes represented the number of schools in a given school district and then I added stars (which are really hard to see in an image here because of its reduced size) for the district-wide programs. The fill symbols are linear gradient fills with the following properties.
Dark Blue Gradient Line Fill Symbol
Algorithmic Color Ramp:
Color 1: R: 0 G: 76 B: 115
Color 2: R: 115 G: 178 B: 255
Algorithm: Lab LCh
Angle 45:
Intervals: 100
Percentage: 100Intent: have a more dramatic shift in the colors than what I used for the next two symbols, which served more like background for these maps. If you check the HSV settings for these colors, you'll find that the value range is from 45% to 100%.
 
Light Blue Gradient Line Fill Symbol
Algorithmic Color Ramp:
Color 1: R: 191 G: 233 B: 255
Color 2: R: 209 G: 239 B: 255
Algorithm: HSV
Angle 45:
Intervals: 100
Percentage: 100Intent: create symbols that could be distinguished by simply the subtle differences along the polygon edges. If you check the HSV settings you'll see that the hue and value are the same, and only the saturation varies from 25% to 18%.
 
Light Gray Gradient Line Fill Symbol
Algorithmic Color Ramp:
Color 1: R: 255 G: 255 B: 255
Color 2: R: 240 G: 230 B: 230
Algorithm: HSV
Angle 135:
Intervals: 50
Percentage: 100Intent: create a subtle symbol difference, but it couldn't be the same as the light blue fill, so I flipped the angle for the gradient full and I used half the interval value. Also, to 'warm up' the gray, the Color 2 RGB value has a little more red. You can adjust a gray tone this way by setting its saturation to 2 to 6% and then setting a hue in the HSV Color properties.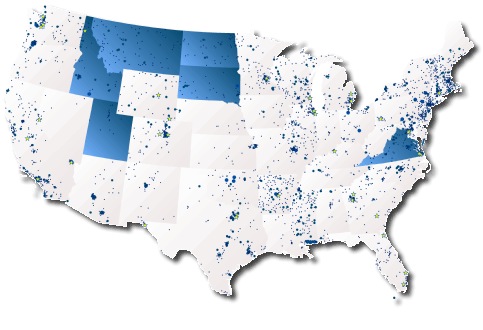 You can view the final slide to get an idea of what our Graphics team did with the maps I provided. I just provided high resolution images of the maps shown above and they did the rest. Pretty cool, I think.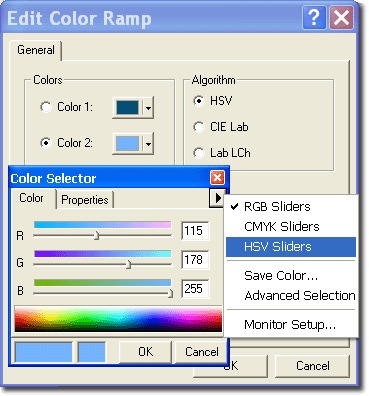 Check out the Creating fill symbols topic in the ArcGIS 9.2 Desktop Help for details about creating fill symbols. This screen shot shows the Edit Color Ramp dialog box, I've clicked on Color 2 and chosen More Colors to show the Color Selector dialog box, which has a button at the upper left that allows you switch between color models. This is how I was able to change my colors using the HSV values for the HSV color model. You can also save custom colors to your personal style from this menu.