Monthly Archives:
June 2007
ArcGIS Explorer's Notes are an easy way to add pushpins to your maps, and also offer unique capabilities to link to a variety of content, including local files as well as anything that's published on the Web. Here's a quickie tutorial on the topic that covers the whole gamut of possibilities
The Basic Note
Here's an example of a simple Note: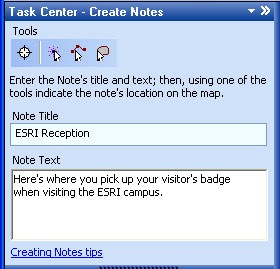 Just click the Create Notes task and type what you see above. Zoom to the ESRI campus (by using the Find Address task and entering 380 New York Street, Redlands, CA) and use the Point tool to place the note. After you add the note you can click the pushpin and you'll see something like this: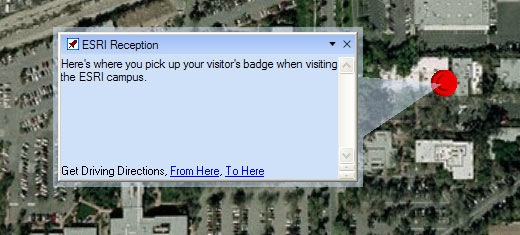 Adding Links to a Note
The above is a very basic example, but there's a lot more that you can do with notes. One nice feature is that you can link multiple documents easily to the same note. These can be documents on your local drive or on your network, or can be Web links. Next we'll add a link to the ESRI Web site and attach it to the note we've just created. In the Results Window where your note resides, right-click the note and choose Add a link to File…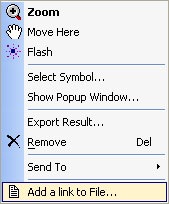 In the Select a File to Link To dialog box, you can select the path to a file or document that is located on your local drive, your network, or you can type a URL to create a link to a Web site. Enter http://www.esri.com in the Filename input box and you'll see that you've added a new item under your note. When you click the item it will, of course, open the ESRI web site. You can add multiple links, and combine all sorts of different document types and Web links.

Opening a Web site in the Note Popup
Now let's try a different approach to adding a link to a Web site. In this next example we want to open the site automatically when the user clicks the note pushpin. To do this we can use the note text, but instead of entering plain text as we did above we will enter an HTML statement as follows: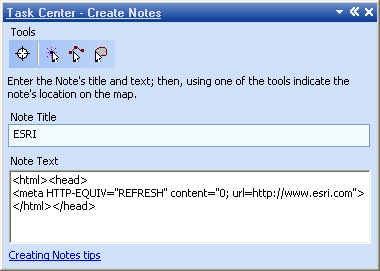 Place the note somewhere on the map and click the pushpin. The popup window will appear, displaying the Web site automatically.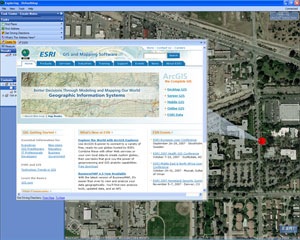 Playing a Movie in the Note Popup
Now let's do something a little different. Instead of linking to a Web site from a note, let's link to an online movie. The movie that we'll link to is one about ArcGIS Explorer published on the ESRI Web site. The direct URL to the movie is: http://www.esri.com/flashmedia/arcgisexplorer/arcgisexplorer.html
To play the movie directly from a note we just add the appropriate HTML. This is very similar to the previous example except that we have substituted the URL pointing to the movie after "url=" appears in the note text.
<html><head>
<meta HTTP-EQUIV="REFRESH" content="0; url=http://www.esri.com/flashmedia/arcgisexplorer/arcgisexplorer.html">
</head></html>
You can save this text out somewhere handy, and just copy and paste it into your note text when needed, making specific changes to what is inserted after "url="
Now when we click the note the Flash movie will start playing in the popup. You may have to give it a second or two to begin streaming from the ESRI Web site.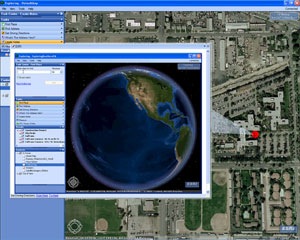 And don't forget that you can export your note as an NMF file and email it to others, put it up on your Sharepoint site, etc. But remember that whomever you send your note to must be able to access whatever files or links you've included with it.
A Note about Notes in the next Explorer Release
The next release of ArcGIS Explorer, scheduled to be released in July, has some really nice enhancements and additions to note functionality. You may have seen us demonstrate some of these at the User Conference. These include:
Notes can be grouped, renamed, and reorganized
The view position, extent, and perspective can be captured as a note property
Entering HTML (as we did above) is no longer required, all you need to do is type the URL to the Web resource you want to open
Popup windows will automatically resize on open
And more…
We'll be covering some of these new capabilities in more detail in future posts.