Tag Archives:
service packs
Have you ever wanted to know when the latest service pack or patch is available for your product package without having to check the Support Site ritually?  If you, too, have been longing for updates, check out the new RSS feeds we've add to the Patches and Service Packs repository on the Esri Support knowledge base. You can set up a custom RSS feed based on software and version. When a patch or service pack that meets your criteria is created, you are notified either through your internet browser or via your email client.
ESRI works hard to address the bugs in our software. As you may already know, you can get dynamic information about logged bugs, through Bugs Online,* a resource that allows you to view the status of a bug on its way to being fixed. But now we've gone a step further!
New today, each Bugs Online report provides the service pack & version in which the bugs are…well, fixed!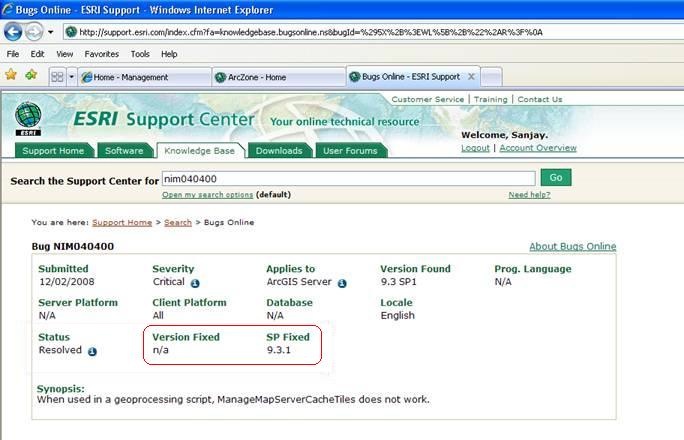 *New to Bugs Online? Access it by going to Online Support Resources, log in, search by keyword or bug ID, and click Bugs Online among the filters in the search returns.

There has been a lot of buzz lately in the ESRI Community about ArcGIS 9.3.1; hopefully answering the following FAQ's will clear a few things up for you.


What will ArcGIS 9.3.1 include?




It will include many bug fixes that were submitted by users just like service packs do, but will also include many new features that will have a significant positive impact on many users. To see the targeted list of bugs to be included view the 9.3.1 Announcement (Note: the downloadable PDF contains the list.) For more details on what features are going to be included in ArcGIS 9.3.1 for all products, please see 'What's coming in ArcGIS 9.3.1'.



Will there be a download for 9.3.1 available on the ESRI Support Center Website?




ArcGIS 9.3.1 will automatically be shipped on media to all customers that are current on maintenance for the respective products. There will be an "Upgrade" DVD that will take your existing 9.3 or 9.3 SP1 products and upgrade them to 9.3.1 (no uninstall of 9.3 required).


For new customers purchasing an ArcGIS product, there will be a full 9.3.1 installation disk.



When will ArcGIS 9.3.1 be available?




ArcGIS 9.3.1 is scheduled to be available in the second quarter (Q2) of 2009.



What about backwards compatibility?




ArcGIS 9.3.1 is compatible with ArcGIS 9.3 for all aspects of ArcGIS, including geodatabases, maps, and API's; so you will be able to easily migrate or work in mixed environments of ArcGIS 9.3 and ArcGIS 9.3.1 within the same organization.



Where can I post feedback about the upcoming 9.3.1 release?




Check out the Upcoming Release Announcement Forums, these forums are here for you to discuss, ask questions, suggest additions, and give us feedback specific to future ESRI Products. These forums will be monitored by ESRI.



Is there going to be a Service Pack 2 for 9.3?




No, the next release of ArcGIS Software is going to be ArcGIS 9.3.1. This is a minor maintenance release, and is recommended for all users.
The following is a link to a related article that was published in the Winter Edition of ArcNews Magazine: ArcGIS 9.3.1 Is the Next Release of ArcGIS.
—Mike H., User Advocacy Group, ESRI Support Services
---