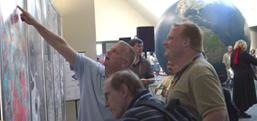 Hello from San Diego, where the User Conference is in full swing. I'm sitting out in front of the Tech Support Island (it's actually more of a
corral
), itching to talk with people about the good and bad of the ESRI Support Center web site. The Tech Support staff are keeping busy assisting a steady-ish stream of users, but there's hardly anyone approaching me to ask a question or lodge a complaint about the Support Center. If you're at the Conference, stop by and say hi. And if I don't wake up right away, try saying hi a little louder.
Actually, I'm managing to stay rather busy. There are blog posts to write (obviously), and several other projects clamoring for my attention. One of these involves coordinating with colleagues back in Redlands to put a few final tweaks on the new Search Results page enhancements.
I didn't arrive in San Diego until Tuesday, so I missed the plenary session where Nick Frunzi presented (among other things) the following slide which lists a few of the ways ESRI is working to improve Support Services:

That last item is the announcement I hinted at in my last post: ESRI is working to give you access to information which has historically been internal-only. What kind of information? Well, how about bug reports? Yes, someday in the not-too-distant future you'll be able to search the Support Center and learn about potential problems
before
beginning a project. Of course, you'll also be able to search for bugs after you encounter them, to see if the bug has been reported to ESRI, and if so, what's being done with it.
Tentatively named "Bugs Online", this new Support Center feature is planned to go live in late Summer 2007, and will be integrated into the existing Support Center search. Here's a few more details (as usual, all is subject to change):
It looks like the first release will be a public "beta" during which you'll be able to access Bugs Online, albeit with somewhat reduced functionality and content. During the the beta, you should still be able to access most of the metadata for most of the bugs, including:


Synopsis: A concise description of the problem and the circumstances under which it occurs.


Submitted: The date the bug report was filed.


Severity: Indicates how heavily the problem impacts those who encounter it.


Version Found: The ESRI software version where the problem was first seen.


Status: A short text description of where the bug currently is in our handling processes.
Later on this year we'll be working on additional functionality, including an option to allow you to "subscribe" to specific bugs and receive an email when the status of the bug changes. There's more in store, and I'll be passing along more information as the details come into focus. In the meantime, if you have questions about Bugs Online (as I'm sure you do), ask away, and I'll answer as I'm able.