Tag Archives:
Projects
If kids in Arkansas ran our schools, EAST would head in all directions. "EAST" (originally "Environmental And Spatial Technologies") is an educational project in about 180 schools in Arkansas, plus another handful beyond. It's a high-tech, service-oriented, student-driven, interdisciplinary, project-based learning operation. It's where school and life merge. It's STEM plus social studies, CTE plus English/arts, service plus gym, all rolled into one, on steroids. And at EAST Conference last week, students from grades 4-12 showed what they can do when permitted to grab the reins. (See also the 2010 column, "Fun With GIS #40: GIS and EdReform.")
Every year, looking at their projects, and watching the students during conference, I see how much kids want to learn, be involved in the community, be helpful, and make the world a better place. Students are charged with conceiving, designing, conducting, trouble-shooting, and assessing projects of significance, and presenting their work to the world. Juggling a buffet of technology, they need to figure out what questions to ask in order to learn what they need, and do what they must to accomplish their task. The adults are "facilitators", in title and behavior; they monitor and ask questions, offer counsel and point out opportunities, but let each student "drive his or her own bus." Kids get the chance to try, stumble, grapple, explore new routes, research and study online, seek help from other students over the Internet or even -gasp!- adults out in the real world, problem-solve, create, and innovate. Since all work aims to benefit others – in the school, the community, or halfway around the world – students push hard to succeed and help out.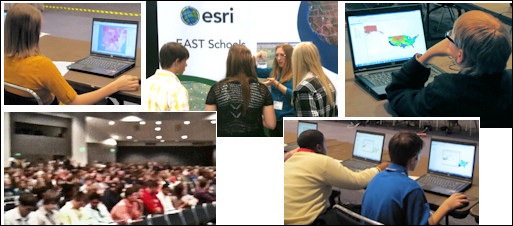 Many students work with GIS … full ArcInfo 10 and extensions. They don't know they "can't do it;" they just learn it. They build and gather data, wrestle with the complexity of the world, manage a blizzard of toolbars and buttons with aplomb, and focus constantly on what will help them move down the road toward their goal. They learn uncommon volumes of life lessons which, independent research has shown, helps them both feel responsible for their own learning and seek extraordinarily to enhance it. In GIS projects, their methods can be haphazard, their strategies a bit unorthodox, their processes circuitous, and "operational efficiency" erratic, but they pursue their goals with unbridled zest and passion, building banks of related knowledge even at a young age.
I judged projects cataloguing local land use change, improving school bus routes, and constructing trail maps for the public. I listened to students new to GIS puzzle thru spatial queries to determine voting patterns when a local millage vote failed. I saw parcel maps highlighting irregularities in local funding. Students spoke of staying hours late to collaborate with peers from other classes, grades, and schools, or work solo in the wee hours before school. And I talked with EAST alums, including young men and women who had earned full-ride scholarships to college on the basis of their demonstrated competency, and heard them describe with maturity their studies, work, and life plans.

With a few minutes to speak at opening assembly, I told the 2000 students that I had spent the previous weekend listening to the nation's governors struggling with how to "fix education" in their states. But these youth knew the answer. At the final banquet, Arkansas Commissioner of Education Dr. Tom Kimbrell asked the crowd "How many of you would like to see your other classes operate like EAST does?" The thunderous reply declared in no uncertain terms, that if students from Arkansas ran US schools, the light from EAST would shine out in all directions, developing strong kids, building communities, serving the country, and making the world a better place.
- Charlie Fitzpatrick, Co-Manager, Esri Schools Program