Tag Archives:
Out And About
On September 27, 2009, the Public Broadcasting Service (PBS) launched its video series, The National Parks: America's Best Idea. The series has inspired this sequence of blog postings about aspects of my personal park explorations over the years via ArcGIS Explorer (AGX) (Tweeting @ArcGISExplorer :: ArcGIS Explorer Blog :: ArcGIS Explorer Add-ins).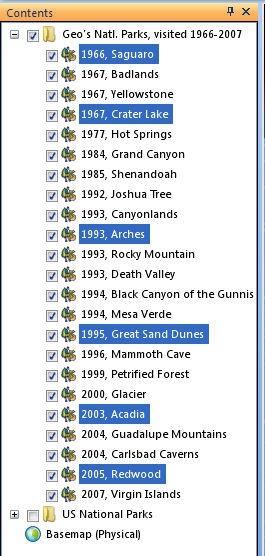 See earlier national park blog posts for more: Part 1, Part 2.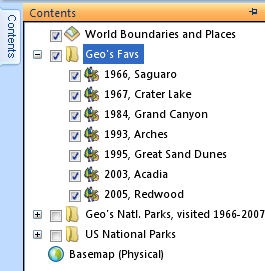 With my personal parks in place on an AGX map, it's time to use some other AGX components to liven up the story. I want to tour some of my favorite parks: using some of the data resources at ArcGIS Online, extending AGX functionality through some cool add-ins, and designing a "geostory" via the AGX presentation component (Think PowerPoint meets live mapping). For each of these I can just jump into the pool and learn by doing, or I can utilize the rich AGX Online Help as I go…I opt for a bit of both.
Since geotrekking through nearly two dozen parks is not a good choice, I limit the scope to my top seven parks. As before, I put them in a special folder, Geo's Favs, but instead of exporting them, I simply add the new folder, which moves the seven. I close the Geo's Natl Parks folder and focus on my fav 7.
Since I want to zoom into close proximity of several parks, I change the Basemap to Physical which will add high-res topographic maps. However, I cannot see any political boundaries at a continental scale. Solution: Add Content > ArcGIS Online > Layers > World Boundaries and Places. This adds a (turn on/off) "geopolitical wire frame" with labels and places noted above the physical geographic layer.
I also want to be able to try some add-ins like Panaramio, Find Geonames, Get Weather Forecast, Find GNIS, and Wikipedia during the development of this project which will also become a rich AGX presentation—travelogue and science/history lesson.
To kick things off, let's head to my first national park—Saguaro—armed with Panaramio and my first AGX presentation slide.
My first visit in 1966 was to the western unit, near the Arizona-Sonora Desert Museum. It was high summer. I was with my parents and 3 other siblings in an unair-conditioned 1963 Dodge but I didn't care. Coming from home in the St Louis area, we had gone off-world as far I was concerned—Magic!
Stay tuned for the next installment.
- George Dailey, ESRI Education Program Manager