Tag Archives:
National Parks
A few weeks ago, we left the sweltering heat of Dallas to embrace the sublime coolness of Washington's Olympic Peninsula. What we found was beyond our expectations—ocean, sea stacks, fog-shrouded capes, rainforests, waterfalls, and lavender fields…to name a few of the delights. We also discovered the land of the Twilight series (Forks and Port Angeles). During our 5-day stay I was armed with GPS receiver, camera, and smartphone for Web research and discovery. Across the journey, I collected location data, images, and some Web references…but most importantly enjoyed the moment.
Back home, I decided to bring some of this geoadventure to life via ArcGIS Online and Explorer Online, and share this magical place with others.
I knew what I wanted in the end—an interactive map with some key locations marked, and photographic and Web content associated with each. Working backwards meant I needed to first get my photos into a location that I could easily reference—my Flickr account. Next, I needed to create a simple database (CSV) for these special locations. The data became a synthesis of GPS coordinates, some place characteristics, and URL links—Flickr photos and Wikipedia references. Here's the finished product.

With these steps completed, I went to ArcGIS.com, logged into my Esri Global account, and then launched ArcGIS Explorer Online. Zooming in on the peninsula, I changed my basemap to work better with the point symbols I wanted to use. From there, I simply dragged and dropped the CSV and in a matter of moments "my" map was populated with "my" data.
At that stage, I modified the symbols for the two "types" of content the point data would lead to—photos and places. (Note the "type" attribute in the CSV.) Steps: Click far right side of layer > Layer Details > Configure Display > Unique Values > Attribute = Type. I then selected and sized the icons of choice. Finally, I saved the project—creating metadata about the map and then sharing it for others to explore.
Here's one view of my geoadventure including my Flickr photo of what I think was the highlight location of the whole trip—Sol Duc Falls in the Olympic National Park.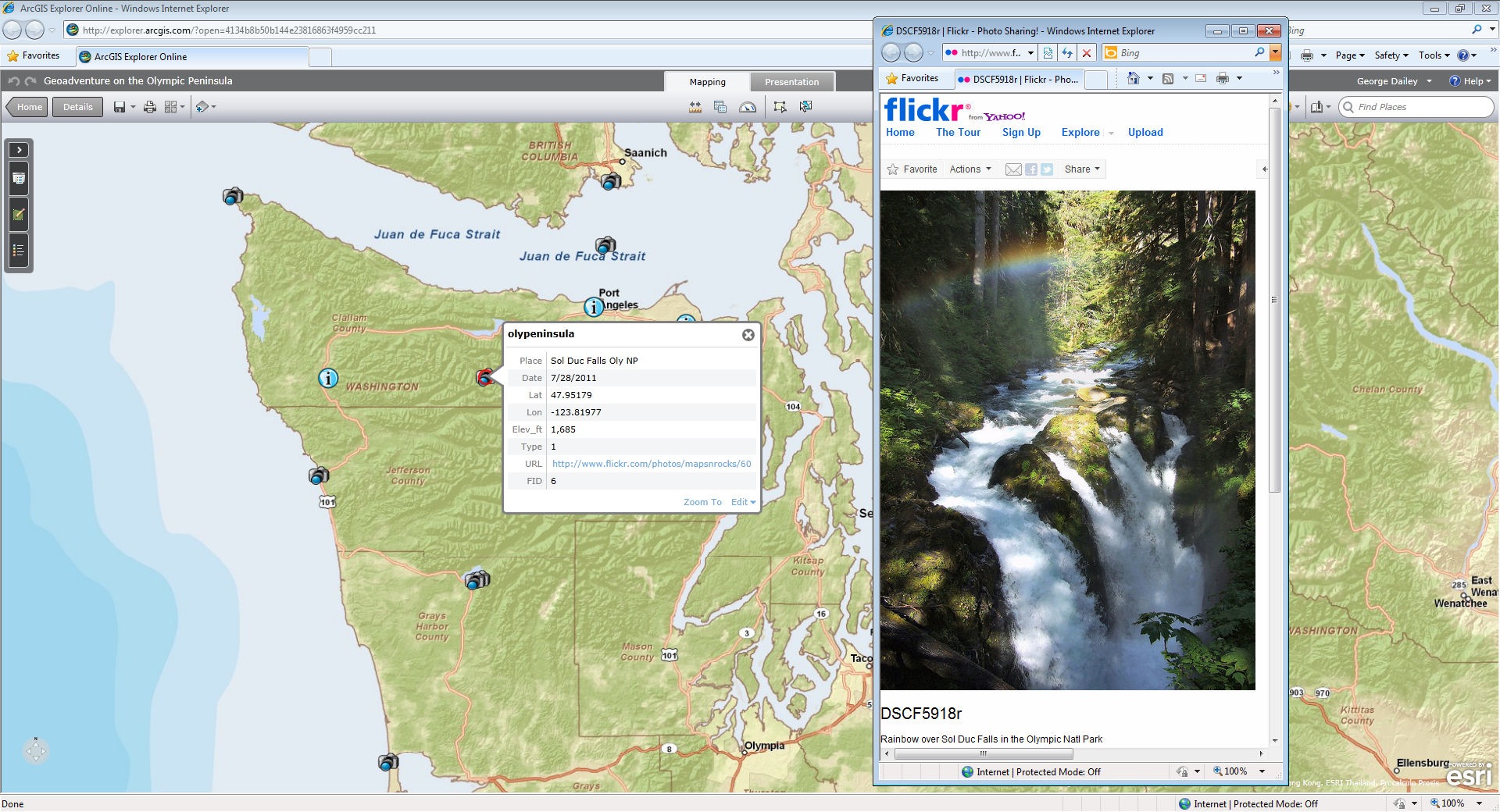 Enjoy and explore the geoadventure map I've started (www.esriurl.com/geooly) …and then create your own.
- George Dailey, Co-Manager, Esri GIS in Schools Program