Tag Archives:
math
In my last blog entry, I discussed why GIS has a natural fit with mathematics education, why the GIS education community should build partnerships with mathematics educators, and how mathematics can be taught through GIS. Let's get more specific.
First, the use of GIS brings math to life by making math visual. Think of common problems such as: "Where and when will these trains cross paths? One departs Point A at 6:00am and heads toward Point B at 70kph, while the other departs Point B at 6:30am bound for Point A at 60kph." Where and when will they cross paths?" GIS allows the anchoring of these and other problems in the real world: Points A and B could be Cheyenne and Casper, and students can determine and plot the course and passing point at a real point on a GIS map layer. Second, solving math problems in a GIS environment allows students to grapple with biodiversity, crime, natural hazards, climate, energy, water, and other relevant real-world issues of the 21st Century.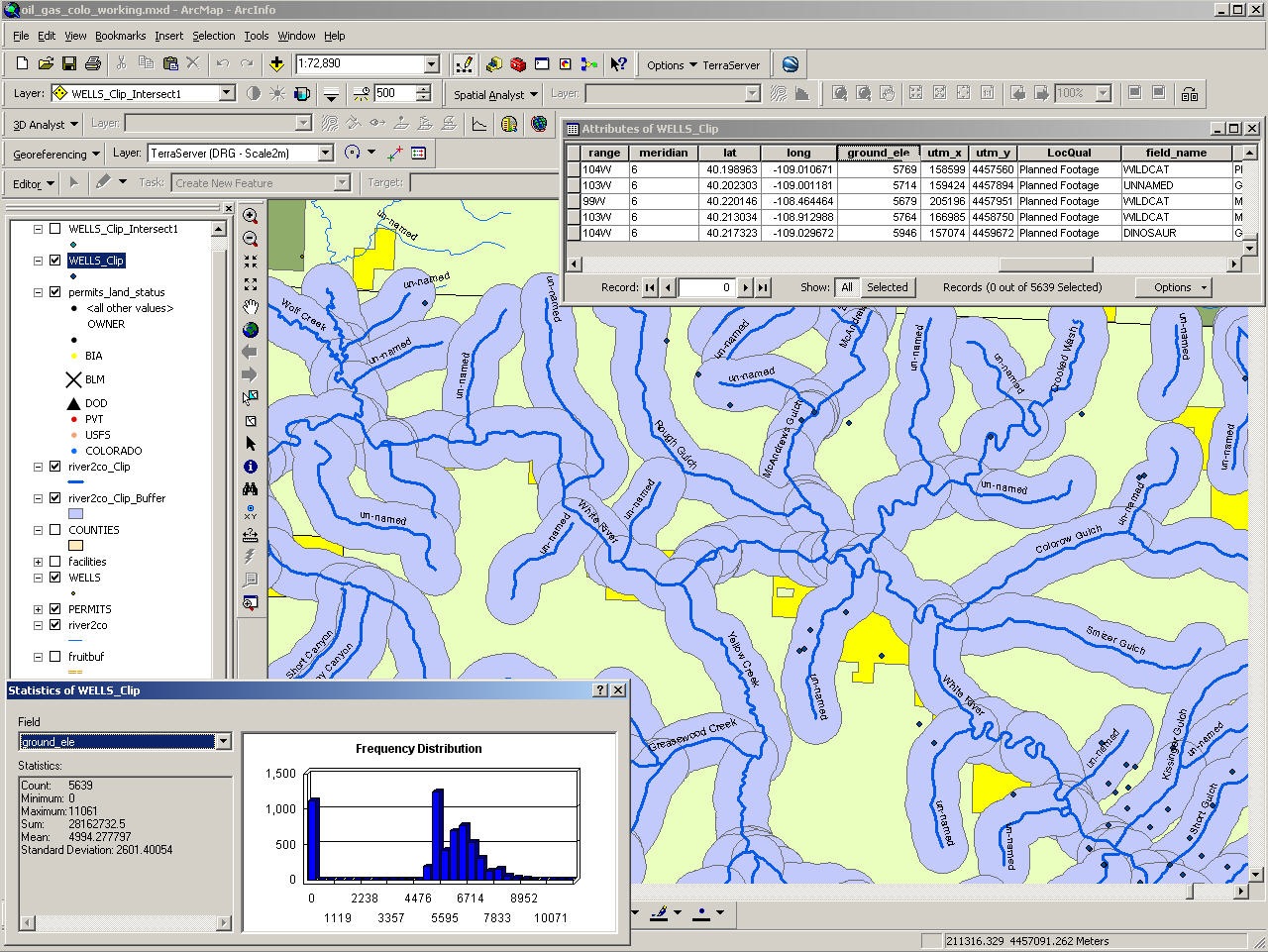 Analyzing the elevation of oil and gas wells in western Colorado
Third, students often do not feel that what they are learning is relevant to what they will be doing after they get out of school. Hundreds of jobs in geospatial technologies—not just surveyors and remote sensing analysts—require analytical, statistical, and computational skills that are learned in mathematics.
To build bridges with mathematics means to serve with primary, secondary, and university mathematics educators on advisory boards at all levels, to conduct professional development with them and for them, and to regularly dialog with teachers and administrators about the clear linkages between GIS and mathematics. Curricular materials that incorporate math concepts and skills are critically needed and can be best created through partnering with math teachers and professors.
These connections have deep historical roots: Willis Ernest Johnson wrote Mathematical Geography back in 1908, and Eratosthenes connected geography to mathematics in measuring the Earth's circumference over 2,200 years ago! I encourage you to build these bridges so that mathematics teaching and learning can be enriched by GIS technology and spatial analysis.
–Joseph Kerski, ESRI Education Manager