Change matters! 30 years of Landsat photos are now easy to view on Esri's Landsat website. The data can be explored with just a web browser, even on an iPad!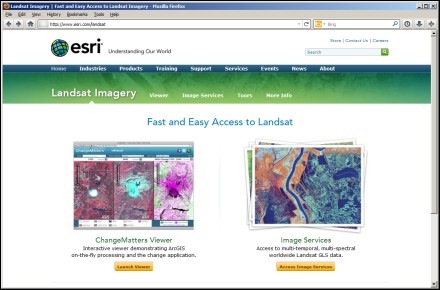 It's tempting to jump right in and begin using the first application that shows up, but be sure to hit the "Tours" link at the top. Even if you don't see all the amazing tours in place, see at least the first one, on "ChangeMatters Tips."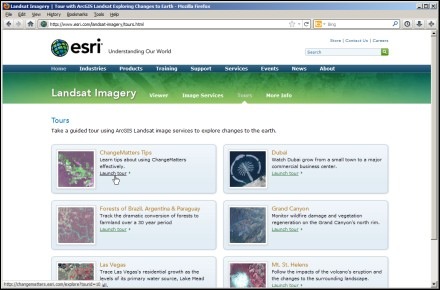 The tour, shown below on an iPad, walks users through some of the important opportunities and considerations in using this remarkable collection (over 8 terabytes!) of images. This example engages the "Explore" application, which can also be used independent of tours, and shows a single window.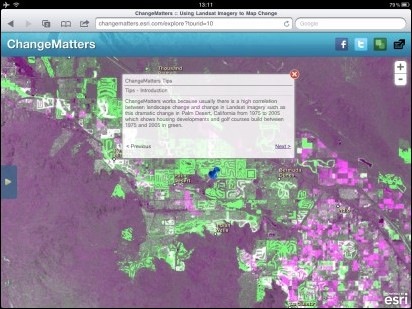 The "Compare" application (again, shown on an iPad) presents a region at two different times, with the third panel showing the difference. Below, you can see the Aral Sea shrinking between 1975 and 2000.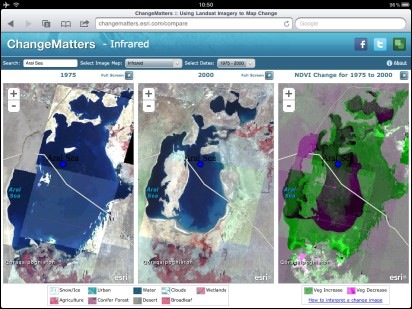 All the data can also be used with ArcGIS.com MapViewer, ArcGIS Explorer Online, ArcGIS Explorer Desktop, and ArcGIS Desktop, each of which opens up more and more power for users to explore and analyze conditions and change over time. These powerful applications provide countless lessons in science and social studies, show beautifully the integration of remote sensing and GIS, and help demonstrate why geospatial technologies are so important in STEM classes and offer such vast career opportunities to today's youth.
- Charlie Fitzpatrick, Co-Manager, Esri Schools Program