In education, one goal should be paramount: critical thinking. Hands up, anyone who thinks kids (and adults) don't need it! But they also need opportunities to build and exercise these skills. GIS is exceptionally good at fostering this, as users are constantly evaluating "What is my question? From the galaxies of data available, which items are relevant and of sufficient quality to present a holistic picture? What analyses will help me uncover or construct usable information? What are alternative interpretations from this information? What is my best action on the basis of this knowledge?"
Some might find such mental exercise a tough challenge, or the technology of desktop GIS intimidating. But web-based GIS now presents exciting and exploding opportunity. The EdCommunity Web Mapping page launches viewers into a series of powerful options using Esri technology, for all grade levels and subjects.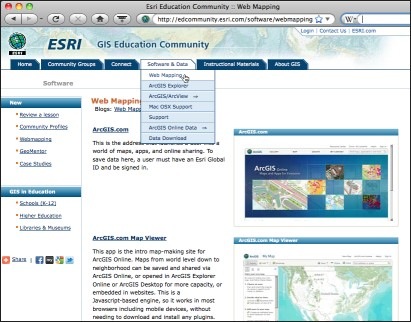 Some of the applications are usable on all browsers (even mobile units lacking plug-ins), while others depend on browsers having the free Adobe Flash or free Microsoft Silverlight plug-in. Some allow users to construct data that can be shared with others. Many of the tools are usable even by young students, while some rely on grasp of background knowledge. But all allow users to explore, contemplate questions, make decisions about appropriate data to consider, integrate various elements, build knowledge about the world from global to local scale, and constantly flex decision-making skills.
For educators seeking stability amid the current tempest, building critical thinking is a bedrock goal. For STEM educators seeking to provide relevance, career vision, and endless chance for problem solving, explore the universe of web GIS. The skills developed here build beautifully toward the countless GIS-using careers available already and expanding tomorrow.
- Charlie Fitzpatrick, Co-Manager, Esri Schools Program