Last week I had the opportunity to participate in BETT—touted to be the largest educational technology conference on the planet. With colleagues from the ESRI UK GIS in Schools Programme, we hosted a booth and engaged with a richly vibrant international crowd interested in learning about the use of GIS in the classroom.
Going all the way to London, I couldn't pass up a couple of days of post-conference exploration. On the list for this trip: The Natural History Museum's Darwin Centre and a tour of the Cocoon—a 7-story, futuristic, seed-shaped building housing a gently winding exhibit, 400 years of plant and insect collections (20 million specimens), and research labs where museum science staff further scientific knowledge and action through ongoing field and onsite investigations. Even without going inside, it was compelling to "get" what it is.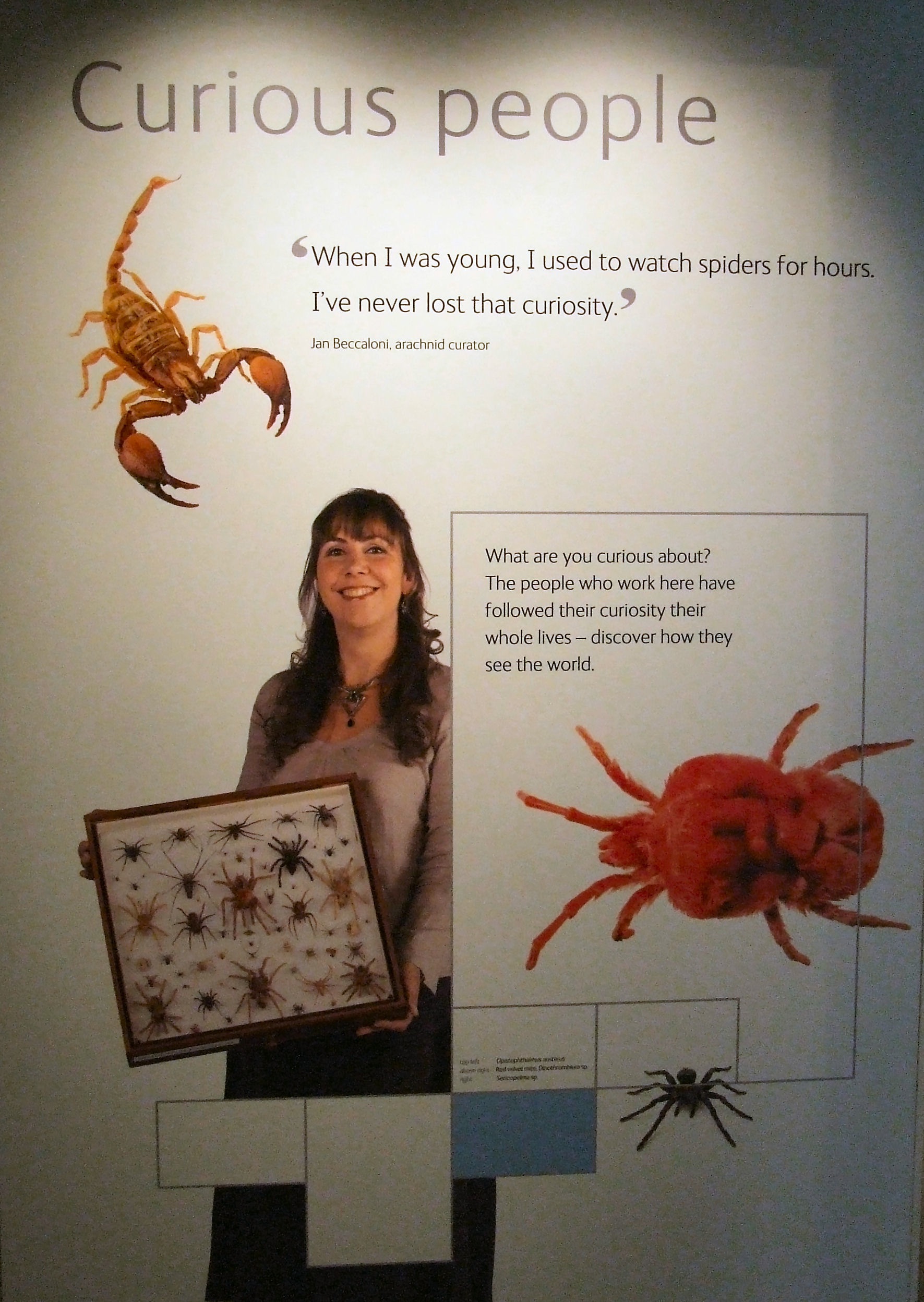 Upon entering, you are immediately invited to read the first of a number of large posters and along the way interact with other display components. Here's the initial sign and its message—Wanted: Curious People. Not just scientists but visitors too.
This image and its text struck me. Discovery is about being curious. Asking "why" is about being curious. Life in its full sense is about being curious. The people at this museum and the things they tackle require inquisitiveness and creativity—nuances of the same gift.
What is it that sparks and feeds a person's curiosity? What is it that permits (fascinates) a person to see the world through a lens of wonder? To be comfortable to say "I don't know" and be hungry to discover more? Whether manifested in studying spiders or investigating a global geographic phenomenon, this quality is vital and needs to be nurtured in students/people of all ages.
The importance of this characteristic is identified as an essential skill in Tony Wagner's book—The Global Achievement Gap: Why Even Our Best Schools Don't Teach the New Survival Skills Our Children Need—And What We Can Do About It. Likewise great minds such as Albert Einstein have pointed to the importance of curiosity; others have been driven by it such as Alexander von Humboldt. But is curiosity the realm of only some people? I don't think so. To me, everyone has the capacity. It is switched on at birth and it is a part of critical thinking and problem solving. I believe it can be helped and hindered by the people and events with which we interact as we move through time. Now is not a time for hindrance. We need to feed these personal engines of inquiry and make them insatiable.
The geographic world which includes everything under investigation in the Cocoon and much, much more is perfect for fostering curiosity in ourselves and those around us—geocuriosity. Likewise GIS through its integrative and interdisciplinary nature offers a structure through which to propel and support geocuriosity. GIS is about exploration, investigation, analysis, what-ifs…it's about being inquisitive. Sustaining curiosity is vital to our future—imagining it, creating it, living it.
…and yes, I am Curious George—always was, always will be.
- George Dailey, ESRI Education Program Manager