I sense a strong desire that most people in the field of educational GIS want to change the educational system. While some seek to include more fieldwork or inquiry-based learning, others want nothing less than grand reform. Each year, most of us read articles or books recommending change, written by those in the GIS education community or by our colleagues in other fields. I recently read the National Center on Education and the Economy's (NCEE) report Tough Choices Or Tough Times, December 2006. NCEE created the New Commission on the Skills of the American Workforce to chart a course for the USA in today's complex global economy. The book's tone and recommendations remind me of Thomas Friedman's book that I read this year that many of you may have read as well entitled The World Is Flat.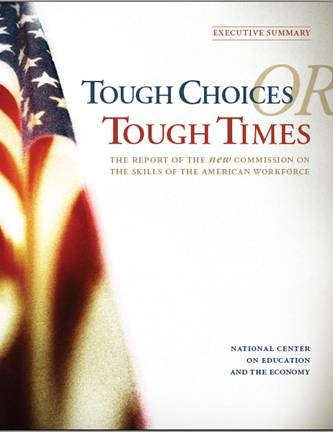 The commission makes a case that America's economic preeminence hinges on the preeminence of our educational system. Unfortunately, America has been lagging behind on key educational indicators for quite some time, and the commission believes that nothing short of radical change will turn the situation around. The final report proposes a restructuring of educational priorities that will have a major impact on all levels of education – from preschool to college and beyond.
The recommendations include a state board qualifying examination, recruitment of a teaching force from the top third of high school graduates going on to university, providing for disadvantaged students, curriculum, standards, and assessment development, operating schools by independent contractors, improving continuing education for adults, bolstering early childhood education, and more. The book's information about workforce training and international perspectives make me think that the GIS work that many of you are engaged in is a part of these important reform efforts.
The full report may be ordered from http://www.skillscommission.org/request_copy.htm or from Amazon.
I encourage you to read at least the executive summary, and I look forward to discussion on the EdCommunity portal about it. What is your reaction to the report?
- Joseph Kerski, ESRI Education Manager