Monthly Archives:
September 2009
A recording of the Getting Started with ArcGIS API for Microsoft Silverlight/WPF training seminar (broadcast live last month) was recently added to the Esri Training website. This free one-hour seminar is designed to help experienced web developers understand the features and functionality available through the API.
In the demonstration below, presenter David Martinez of the Esri product marketing team steps through the process of downloading the ArcGIS API for Microsoft Silverlight/WPF from the ArcGIS Resource Center, creating a project in Visual Studio, and adding some of the code behind a rich Internet application.
Other demonstrations in the seminar show how to add map services and interactive map navigation, execute a geoprocessing task that calculates drive-time polygons, display a progress bar while the geoprocessing task executes, and publish a Silverlight application.
If you want a closer-up look at the code used to build the seminar demos, you can download it from the Code Gallery on the ArcGIS API for Microsoft Silverlight/WPF Resource Center. Look for the entry named LTS Demos for ArcGIS API for Silverlight.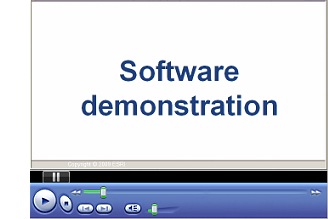 March 2, 2011 update: The instructor-led course Building Web Applications Using the ArcGIS API for Microsoft Silverlight/WPF is now available for more in-depth training on this topic.
We got a lot of requests on our 2009 Esri Training survey for more courses on scripting, particularly with Python, the scripting environment included with ArcGIS. Currently, we have two instructor-led courses that focus entirely on creating geoprocessing scripts, one Web course that includes a module on scripting, and a free training seminar and Instructional Series podcast that cover Python scripting.
March 3, 2011 Update: The resources listed above are for ArcGIS 9.x. Python has been significantly integrated into ArcGIS 10. Here is a list of training options for Python at ArcGIS 10
So why the big interest in scripting? The main reason is that scripts allow you to automate GIS workflows that would be time-consuming to complete one task at a time. For example, suppose you needed to update attributes for thousands of features on a daily basis. You can write a script to update the attributes, and have the script run at a specific time each day (or at night after working hours). Continue reading →