Tag Archives:
WMS
New capabilities in ArcGIS Online were highlighted during the opening plenary session at the recent Esri 2011 International User Conference. Here's a recap of what was shown, along with a few additional details. Part I (this post) covers recent capabilities introduced prior to the User Conference. Part II covers new features still in beta, including organizational subscriptions and hosted services.
The ArcGIS Online plenary presentation can be viewed online. To view the ArcGIS Online Part I demonstration covered here you can fast forward by advancing to the 4:00 minute mark in the video:
ArcGIS Online at the UC Plenary - Part I
ArcGIS Online was introduced at last year's User Conference, and since then it's become both an integral and integrated part of the ArcGIS System. But while it's a part of the ArcGIS System, anyone – not only GIS professionals – can make a map by going to ArcGIS.com, the Web gateway to ArcGIS Online. Just click Make a Map to open the built-in ArcGIS.com map viewer. The map viewer opens with the default World Topgraphic basemap, built using authoritative content compiled from GIS users worldwide.
We'd like to quickly create a map using information we have in a spreadsheet (a CSV file with crime data) downloaded from the Washington, D.C., website. To create the map we simply drag and drop the spreadsheet from our folder onto the basemap: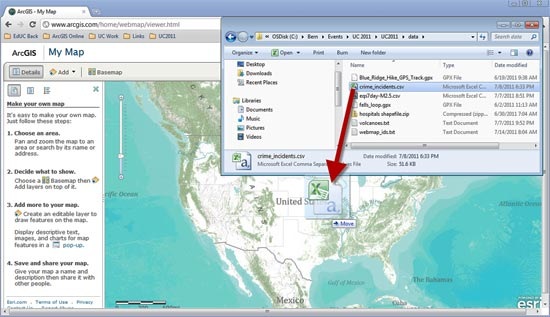 The lat/long coordinates in the spreadsheet are automatically discovered and used to add the locations to our map. They appear on the map below as dots, and clicking each of them we can view the information from the spreadsheet in a pop-up: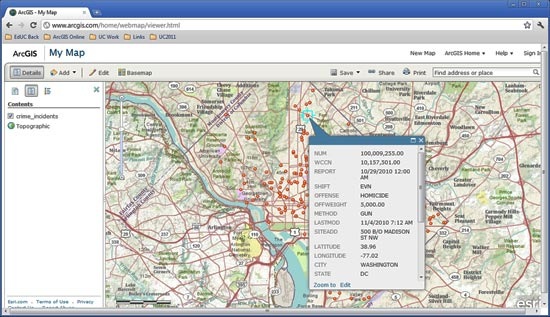 We can style the symbols in a variety of ways; by choosing a different symbol for all, or by choosing to symbolize by unique values, or by choosing a field to color or change the size of the symbols. Below we've chosen to vary the size of the symbols based on the severity of the crime; crimes like homicides are represented by large dots, less severe crimes are symbolized by smaller dots: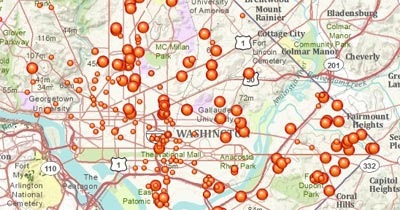 Next we may want to learn more about why these crimes might occur by adding demographic information, also published and easily found on ArcGIS Online. Using the map viewer we can search by keywords and find additional layers that we can mashup quickly and easily. Below we've searched for and found the median household net worth layer and added it to our map (and adjusted the layer transparency).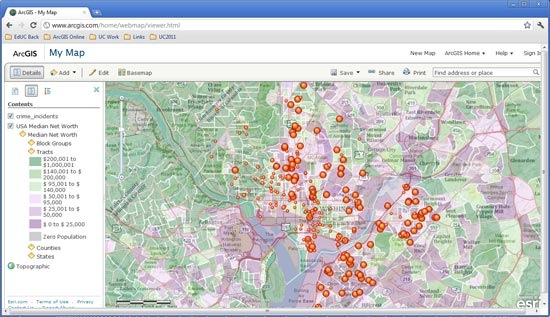 We've finished our map (in just a minute or two!) and have saved it in our free ArcGIS Online account. All you need is to register your Esri global account and you can save maps and more, share them with others, and create groups and organize your content.
Once saved, there are many ways that we can share our map and make it available to others. We can share it via a link that we can copy and paste in an email, or we can embed it in a website or blog, or we can use one of the templates (from the built-in template gallery) that lets us view and share the map using a different application.
Here's one that includes a widget for locating tweets. We enter "crime" and the matching tweets found in our view are instantly added to the map we just made (there are many more templates to choose from):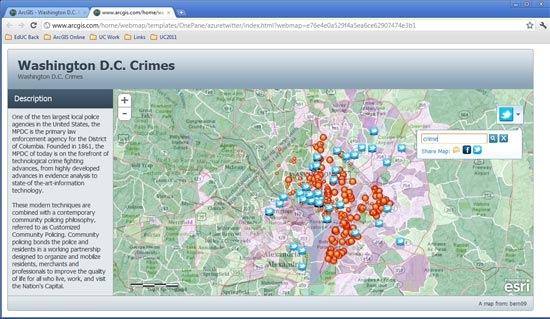 The intelligent maps supported by ArcGIS Online can be easily created and shared by anyone.
Another feature of intelligent maps is that they present information in meaningful ways, and the way information is displayed can be configured easily by anyone. An example is the USA Tapestry Segmentation map which includes paragraphs and pie charts to display the demographic profile information in more meaningful ways than just a list of attributes. Just click a feature to display the pop-up: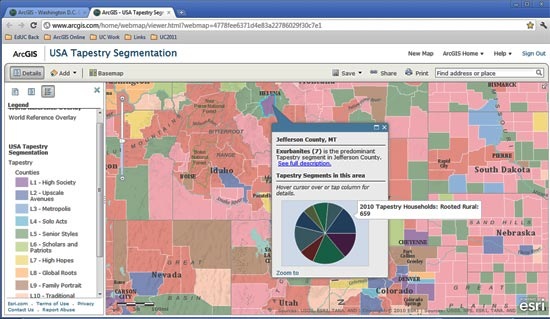 Intelligent maps can also be time-enabled. Here is an example from the ArcGIS.com map gallery that shows World Bank data with population growth over time. Note the slider along the bottom, which advances yearly from 1960 to present. It's been set to auto-play, but can be interactively moved instead. The map has become "time aware" simply by connecting to a time-enabled GIS service: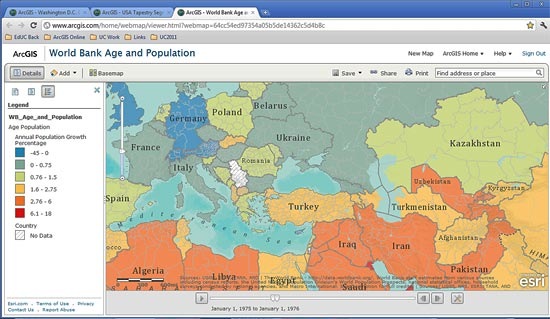 Intelligent maps are also timely, meaning that they can present real-time information in a timely manner rather than just displaying static maps. This map shows USGS stream gauge data that is updated in 15-minute intervals. As we captured this graphic we noticed that the current stage height was 24.77 feet, considerably above the 18-foot flood stage.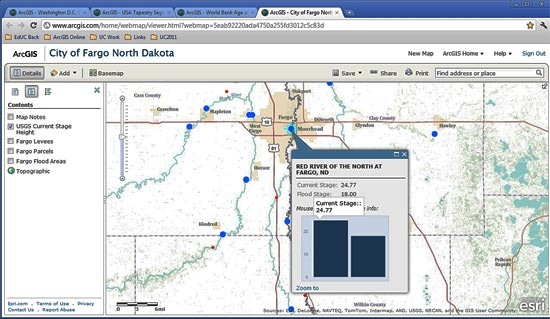 Zooming in we took a closer look at Fargo, located in Cass County, North Dakota, and its across-the-river neighbor Moorhead, located in Clay County, Minnesota. The cities of Fargo and Moorhead, as well as Cass and Clay counties, are all participating in the Community Maps Program which enables GIS users to add their detailed data to the Esri World Topographic basemap.
The advantages are many; users own their data and can update it when they need to, and Esri provides the hosting for free. And everyone benefits when events occur, like the flooding that the Fargo/Moorhead area experience, as Nature doesn't pay attention to jurisdictional boundaries. Having a comprehensive, up-to-date, authoritative, multi-scale basemap readily available makes situational awareness easier to attain.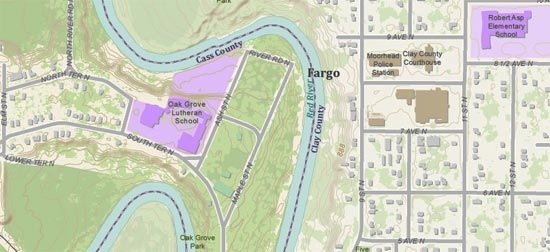 Zooming in to the Oak Grove School area, we turn on additional layers published by the City of Fargo via their ArcGIS Server. These layers include levees and parcels. The parcel pop-ups have also been configured to display property value information.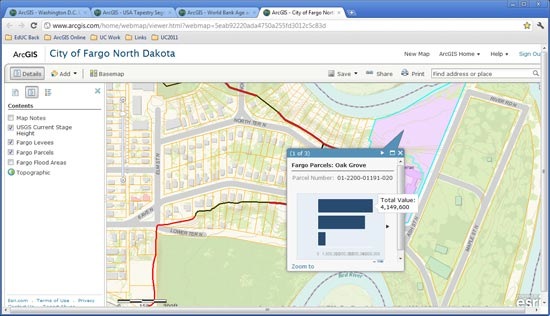 Intelligent webmaps can also be used in many different ways. This same map shown above can be embedded in any website using the automatically generated HTML snippet and using copy/paste. Shown below is the City of Fargo website with the embedded map: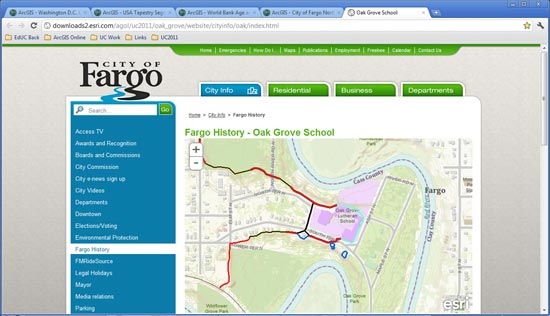 ArcGIS Explorer Online is another ready-to-use application that is hosted on ArcGIS Online. It includes unique capabilities, including the ability to author presentations. These are similar to PowerPoint presentations but much more powerful because you are using live, interactive maps. You create "slides" which capture what you see on the map, but you can interact with the map and pan/zoom or click features in any slide. Presentations enable you to communicate geographically with anyone, and can be viewed anywhere and easily shared.
Shown below are the ArcGIS Explorer presentation tools in the presentation tab showing several slides, and one being authored: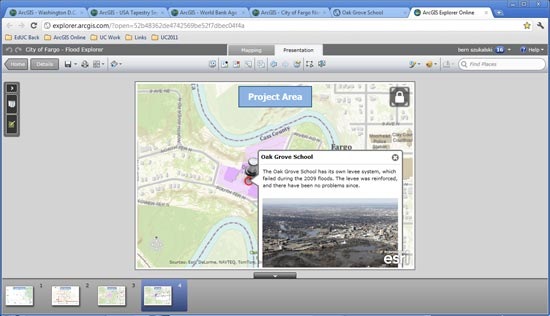 Intelligent maps can also be used in many applications, on any device. Any webmap can be viewed using Explorer Online or the map viewer, opened in ArcGIS Desktop, or on your iPad (using ArcGIS for iOS or displaying the presentation using the Safari browser). Shown below is the presentation being displayed on the iPad using Safari: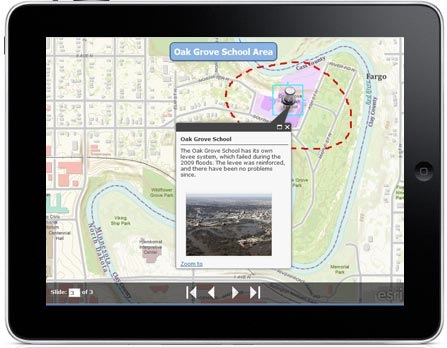 Intelligent maps are also open, and can be used with many different kinds of data. We've already used spreadsheets (CSV files), but ArcGIS Online also supports importing GPX files, using KML and WMS services, and more. Shown below is a webmap made by mashing up a KML showing locations of dams and an OGC WMS service published by the USGS with state geology: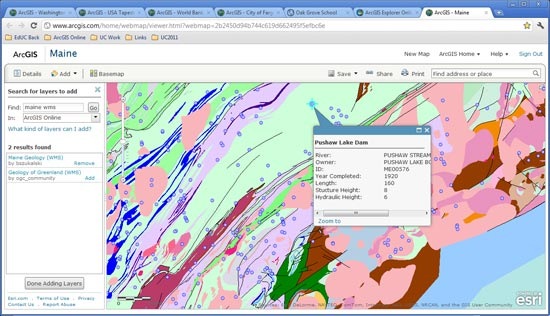 Shapefiles can also be imported and used in any map, and shown below using Explorer Online are two shapefiles of hospital service areas and locations. Like any other layer they can be symbolized in many different ways, and pop-ups can be configured.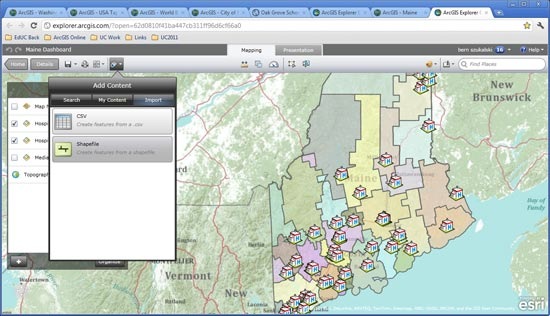 Intelligent maps also enable analysis, and shown below in Explorer Online is a dashboard with gadgets that enable us to look at population totals and demographics and compare them to other features as we hover over them. The dashboard enables us to look at information in a very visual and interactive way that helps us understand more about what we see on the map: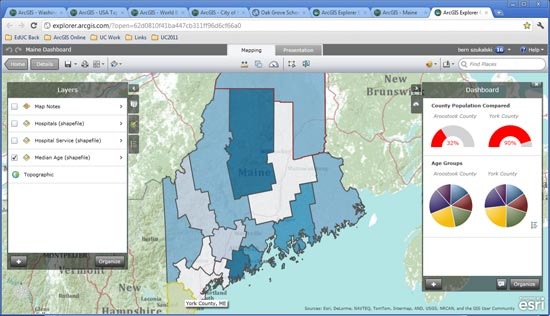 ArcGIS Online's intelligent webmaps are truly unique and powerful, and offer compelling ways to share and use geospatial information in many ways, devices, and applications.