Tag Archives:
Templates
We've been working closely with the Public Safety Industry team this fall to migrate the ArcGIS 9.3 Emergency Management templates to ArcGIS 10 and are pleased to announce the release of the ArcGIS 10 Public Safety templates. In addition to these updates, we've also released several new templates that will help you leverage ArcGIS in your public safety agency.
Special Event Planning Template
The Public Safety Special Event Planning template is new at ArcGIS 10. This template is an ArcMap editing map and editor extension for managing special events data. It is an editor that can be used by mapping technicians in a public safety or emergency management agency to streamline the development of special event data and maps. The Special Events Planning template includes an Add-in called the Attribute Assistant. The Add-in is an editor extension that uses a series of pre-defined methods to automatically populate attributes for you when updating and/or adding new features to the geodatabase. For example, one method will automatically populate an Event ID on each item placed on the map. Other methods will help you maintain the integrity of your special event data by populating the last editor and last update date on each feature.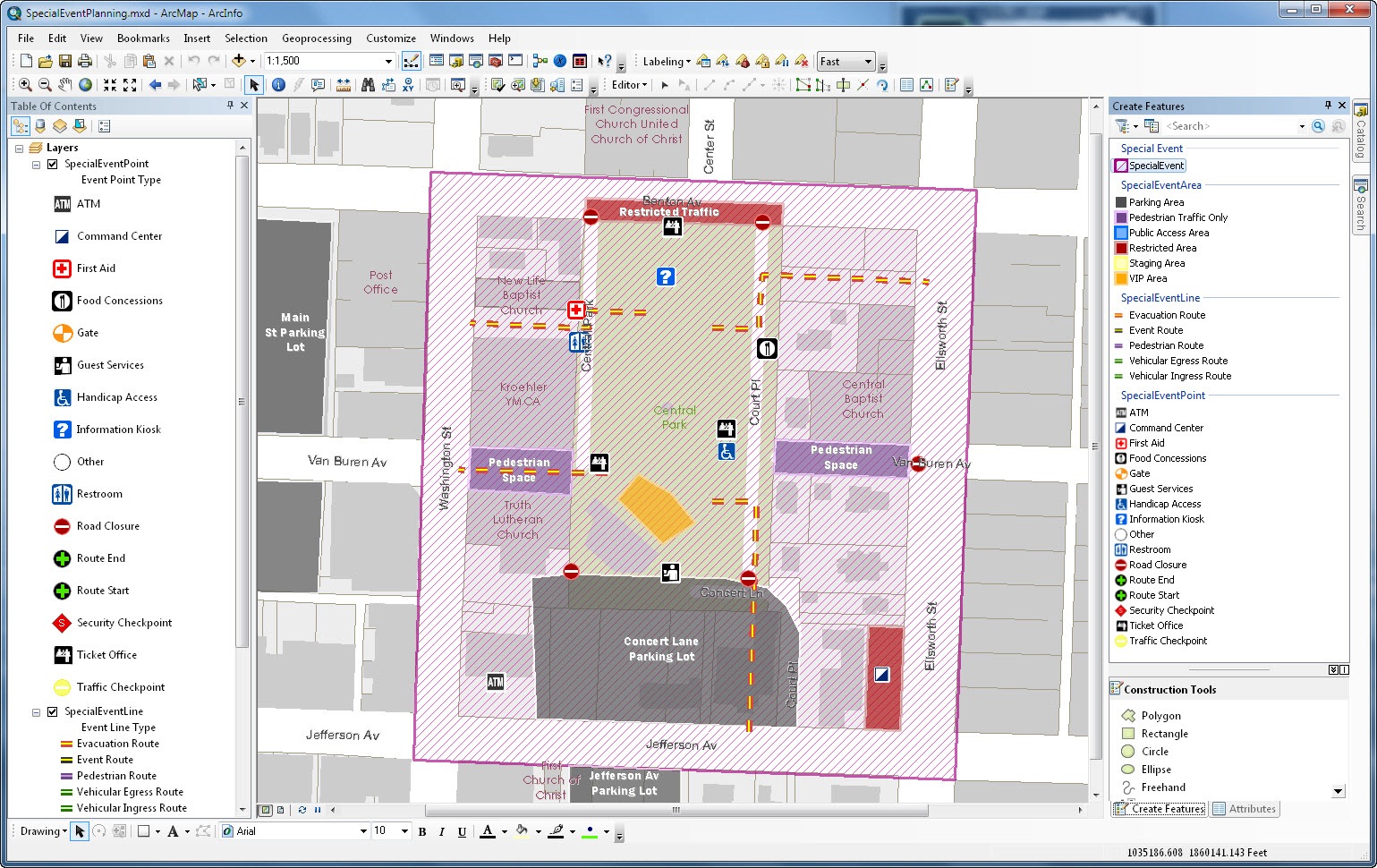 The Public Safety Special Event Planning Editing Map
The configuration of the Attribute Assistant Add-in was adapted from several editing workflows we developed with the Water Utilities Industry Team. You can learn more about the Add-in on the Water Utilities blog. In addition, check out the video we posted on the Local Government Resource Center highlighting the Special Event Planning template.
Damage Assessment Template

The Public Safety Damage Assessment template has been updated for ArcGIS 10 and now uses the out-of-the-box ArcGIS Mobile application. The template is an ArcGIS Mobile project that can be used to collect structural damage assessment during emergency response activities. It supports the collection of initial structural damage, further more detailed structural assessments, and other physical damaged observed from the field. It can be deployed in a connected or disconnected network environment, and on Tablet PCs or other mobile computing devices.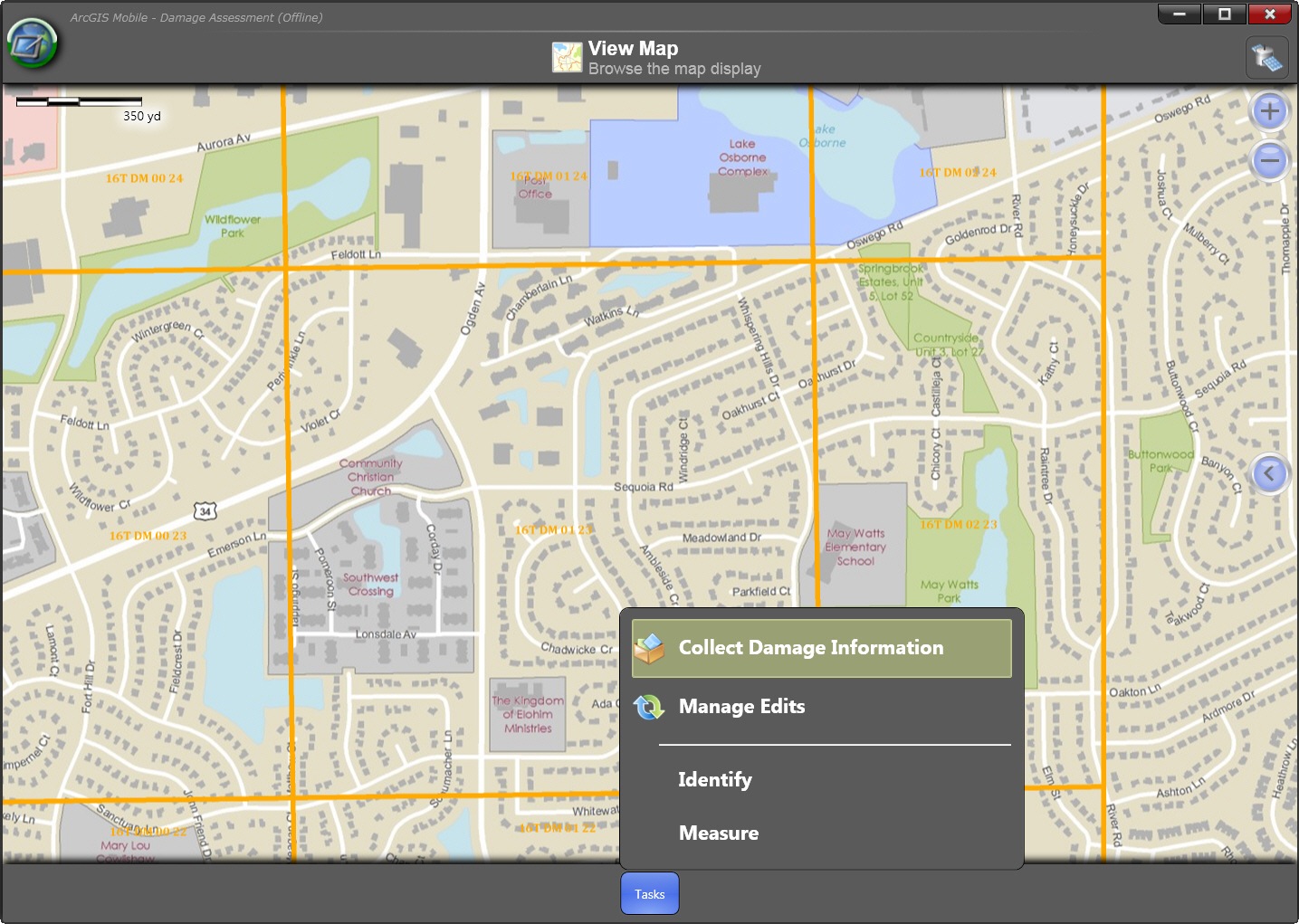 The Damage Assessment template on a mobile device
The Damage Assessment template comes with two basemaps. The first is the Mobile Day basemap, designed for work during day light hours. The second is the Mobile Night basemap, designed for work at night, or in low light conditions. In addition to the multi-scale mobile maps, the template also includes a series of operational layers with simple tools designed for field data collection on a mobile device.
Common Operational Picture Template
The Common Operational Picture (COP) template has also been updated for ArcGIS 10. The template offers a standard overview of an incident, providing incident information that enables the Incident Commander/Unified Command and any supporting agencies and organizations to make effective, consistent, and timely decisions. It is a configuration of the new ArcGIS Viewer for Flex 2.1 application that can be used by emergency management staff in an Emergency Operations Center (EOC). The new Common Operational Picture application uses an ArcGIS 10 feature service to create and update incident information in the Local Government geodatabase. This new functionality allows the Incident Commander to use the COP to allocate resources during an incident or event, and update the status of response activities in real-time.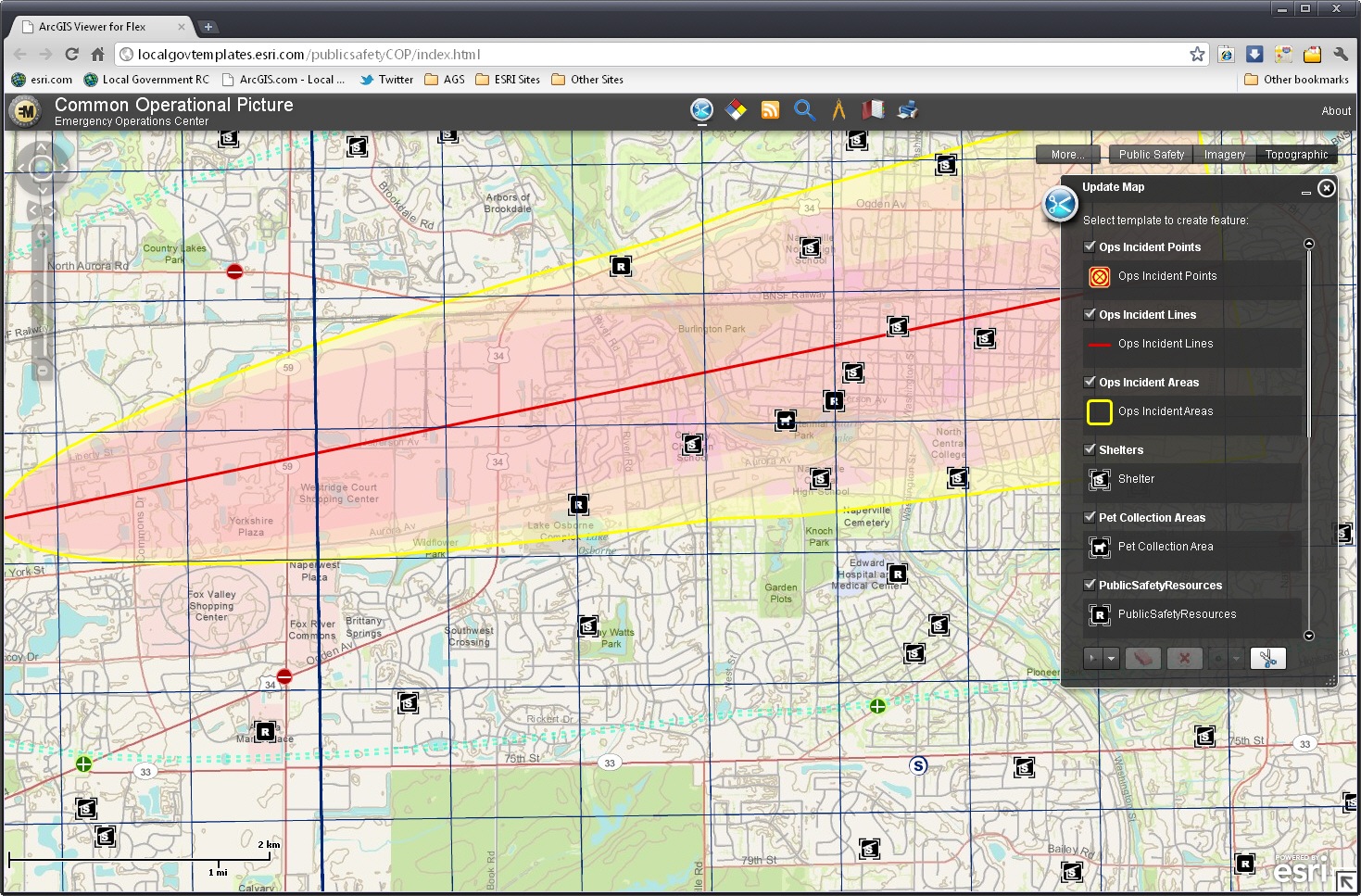 The Common Operational Picture supports incident command
Finally, the COP template comes with three local government basemaps. The first is a new Public Safety basemap. This basemap provides context for public safety data (incidents, events, resources, etc.). It includes structures, roads, major facilities and landmarks, water features, parcels, addresses and boundaries. The basemap uses design elements found in the General Purpose basemap but emphasizes critical facilities found in a community. The second basemap is the Imagery Hybrid basemap. This basemap provides high-resolution imagery as an alternative to much of the content contained in the General Purpose basemap. The third basemap is the Topographic basemap. This basemap expands upon the General Purpose basemap by providing topographic contours and other physiographic features.
Citizen Service Request Template
The last template we've included in this initial update for public safety agencies is the Citizen Service Request template. This template can be used by customers to submit non-emergency service requests, interact with local government staff and share information with the public. It provides 24×7 access to a public safety or other government organization and typically supplements customer service phone numbers staffed by local governments.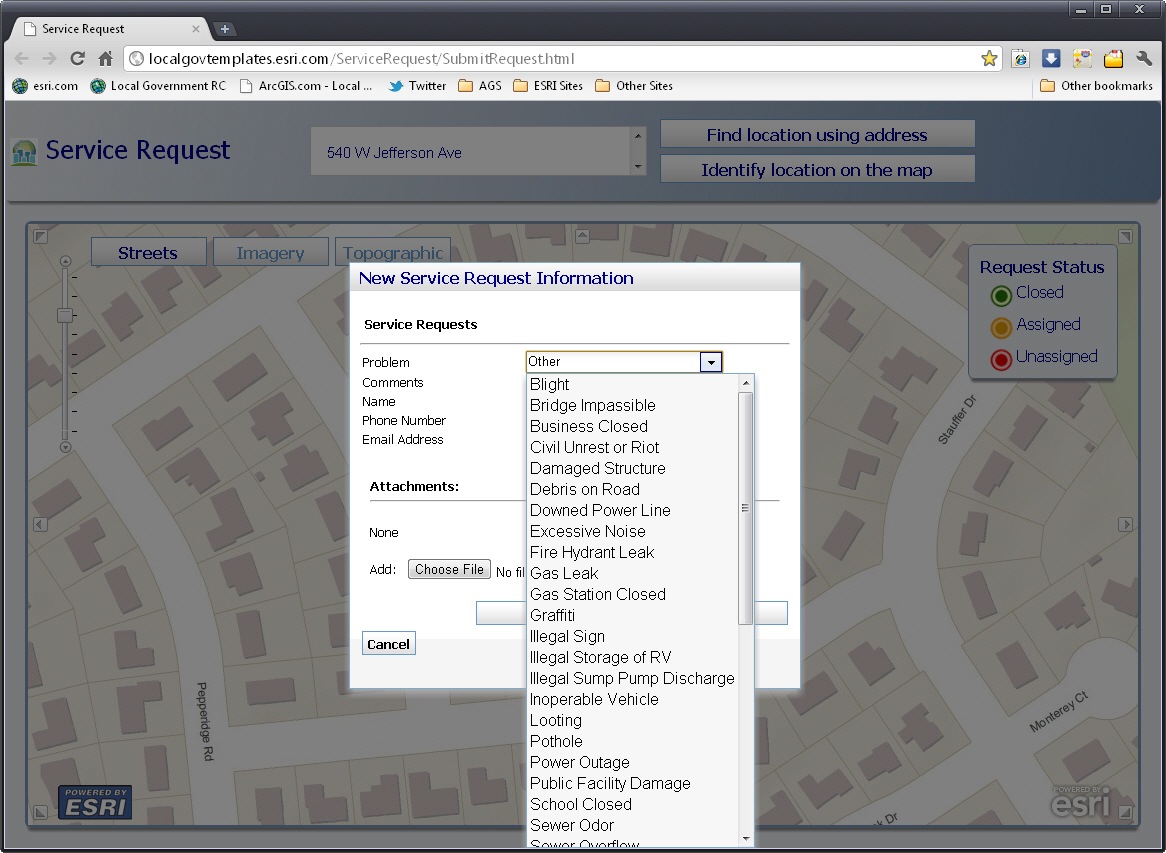 The Service Request template facilitates non-emergency requests for service
The Citizen Service Request template leverages work we've done for other agencies within local government and expands the problem types to include non-emergency public safety issues. It can be deployed to support specific public safety needs or more generically to support a larger cross-section of problems reported to a local government. You can learn more about the Citizen Service Request template here.
All of the Public Safety templates leverage the work we've been doing on the Local Government Information Model. This information model demonstrates how ArcGIS can be configured to support public safety business needs in your organization. In doing so, it incorporates specific application requirements and the cartographic design elements necessary to produce rich, multi-scale basemaps and operational layers; like the ones you see in the Public Safety templates. You can download the Local Government Information Model from ArcGIS.com and migrate your content into this geodatabase design. When you do, you can quickly take advantage of the public safety maps and apps published on the Resource Center. You
can also begin to see how your public safety data can be integrated with, and take advantage of, other thematic layers found in a local government.
When you download the new Public Safety templates, you'll notice we're providing sample data from Naperville, Illinois and not Louisville, Kentucky. At ArcGIS 10, we've standardized on one geography (or community) for all of the Local Government templates and are providing a single sample data set. In doing so, users can see how an integrated information model can be leveraged throughout a local government, and more specifically in this case, how data collected for diverse purposes can be used by public safety officials. For example, ownership and value information maintained by the assessor can be used when conducting damage assessment inspections.
One final note, we've started working on a series of templates for the Fire Service community that will be released in early 2011. These templates will help you configure ArcGIS to conduct pre-fire plans, manage on-scene incident command, provide response information to elected officials and the general public, and produce good maps for firefighters in your community. You'll hear more about these templates in future blog posts.
We've enjoyed working with the Public Safety Industry team on these updates and the new templates for this community. We look forward to you feedback and don't hesitate to contact us if you have any questions about the Public Safety templates for ArcGIS 10.
Posted in
Local Government
Tagged

ArcGIS 10, City, County, Editing, Emergency Management, EOC, local government, mobile app, Municipal, public safety, Templates, Township, Village, web application
Leave a comment