Tag Archives:
raster data
This is part 2 in a 2-part blog. Part 1 provided an overview of pyramids and overviews. Part 2 provides you with some guidance on generating them when creating a mosaic dataset.
When you are viewing a mosaic dataset and you're zoomed in to a small number of images, the pyramids are typically used to generate the image you're seeing. When you zoom out and your view contains many images—to see the many images, overviews are typically being displayed.
How to know what you're seeing?
If you want to know what is being displayed, open the attribute table. Then right-click the Image layer and click Selection > Select Visible Rasters. This will select the item in the attribute table (and will highlight the footprint if displayed).
General design
If the raster data contained within the mosaic dataset has pyramids, then generally fewer overviews are needed. In the diagram below there are three source images. They each have a pixel size of 0.5. The pyramids are built for each source image—in this case only two levels. The pyramids are resampled by a factor of 2 (this is the default). The overviews are then generated where the pyramids end, but using a resampling factor of 3 (this is the default). The overviews are a mosaic of the images and are limited by a tile size. In this example, there are only 2 overviews at the first level, even though there were 3 images. Eventually, there is only one overview at the top level.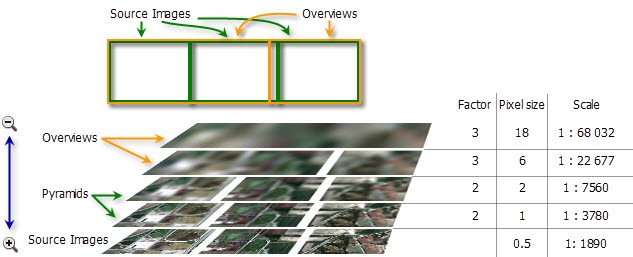 You can have various combinations. For example the source images above may not have pyramids. In that case the overviews will start with a pixel size of 1.5 (1:5670); which is a factor of 3, and it will continue until it reaches and appropriate overview size to display the entire image quickly.
If pyramids have been generated, then fewer overviews will be needed and it will take less time to generate the overviews.
Guidelines
Generally, overviews will perform faster than displaying the pyramids for each raster within the mosaic dataset. This is because they are often larger in extent than the source files, so fewer files are opened. You may consider building overviews instead of raster pyramids when using
Preprocessed tiled imagery, such as orthophoto quads
Edge-joined (non-overlapping) imagery, which will not be effected by changing mosaic methods
Imagery that will be processed on-the-fly, when the parameters and mosaicking method will not be changed
When building more complex mosaic datasets, especially where you will be taking advantage of the mosaic methods and on-the-fly processing, then it can be advantageous to build pyramids on the source rasters and to build overviews only where they are needed, such as when
The raster datasets are larger than 5000 columns
The rasters overlap and the mosaic methods will be used to control the order
On-the-fly processing will occur on the source rasters at all scales
Images are not static preprocessed rasters
When building pyramids or overviews, use the appropriate resampling method and compression
For imagery, bilinear resampling is recommended and a JPEG compression
For discrete data, nearest neighbor resampling is recommended and a LZW compression
Overviews are generated using the defaults of the mosaic dataset, such as the default mosaic method. If you have multiple overlapping scenes over time, then you won't see the different dates until you've zoomed into a level where the source images (or their pyramids) are displayed. For example, in the diagram above if there were overlapping source images from different dates, you could use the Time Slider to examine each image; however, you would not be able to do this until you were zoomed into approximately 1:22 000.
When your view is zoomed in to view a small number of raster datasets, pyramids are typically involved. When the view zooms out to cover a mosaic comprised of many individual datasets, overviews are typically involved.
Additionally, if you plan to view individual rasters from within the mosaic dataset using Lock Raster (for example), the rendering may be faster at different scales for raster datasets with their own pyramids (and statistics). Previewing the rasters from the mosaic dataset's attribute table will also be faster.
Submitted by: Melanie Harlow
Posted in

Imagery, Services
Tagged

ArcGIS 10, Geoprocessing, Imagery, mosaic dataset, overview, pyramid, pyramids, Raster, raster data, rendering
5 Comments