Tag Archives:
Pop-ups
We've covered how you can configure pop-ups with map service layers in previous posts. In this post we'll continue our pop-up thread by covering pop-ups for features that you can add directly to your map. Features are found in feature layers, and editable features come in two flavors. One kind is an editable layer that you connect to as a service, published via ArcGIS Server. The other kind are features that you can edit and save directly in your map. The latter is what we'll focus on here.
We'll start by opening a new map by clicking Make a Map at the ArcGIS.com website. This opens the ArcGIS.com map viewer with the default map. Click Add and you'll notice a dropdown with two choices; one lets you add layers to your map, the other lets you create a new editable layer – that's the one we'll choose: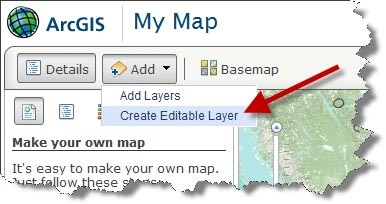 We'll be prompted to pick a template and a name for it (this is what appears in our map contents). We'll accept the defaults in the next dialog and click Create: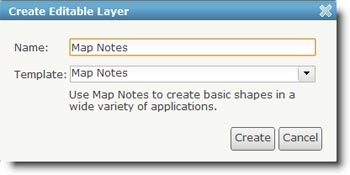 After clicking Create, you'll see a feature template gallery containing points, lines, and areas that you can add to your map. You'll also notice an Edit button has now appeared: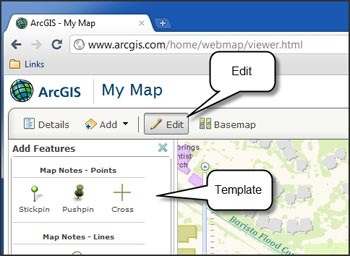 Below we've zoomed to the Esri campus, and chosen a pushpin from the template and added it to our map right in the middle of Building Q, our corporate headquarters. We've also changed the symbol to a blue pushpin and increased its size. We've also made some changes so more information about the Redlands Campus headquarters will be displayed when the pushpin is clicked; we've changed the title and added a brief description: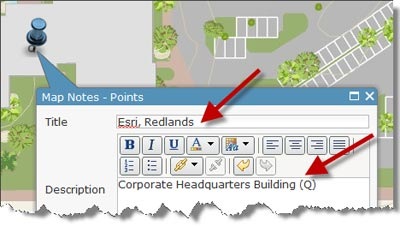 If we click the Edit buttom again we'll leave edit mode and return to our map. Click the pushpin to see the changes we've made in the steps above: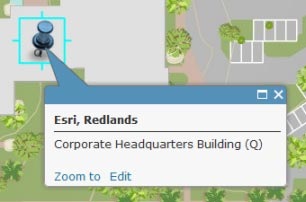 We can improve the pop-up by adding a photo and a link to visit when the photo is clicked. Click Edit on the feature pop-up to return to edit mode.
Here is a URL from the Esri website that displays a photo of Building Q.
http://www.esri.com/about-esri/graphics/building-q.jpg
We've pasted the URL above into the pop-up Image URL property below, and also added a Related Link to visit when the photo is clicked.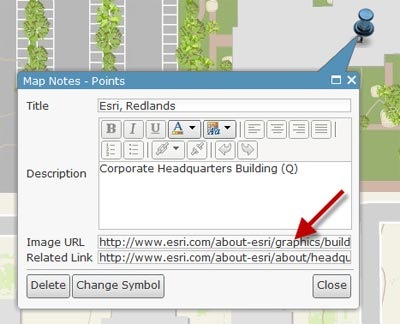 Now we have a very nice pop-up, and have learned an easy way to add photos to our map.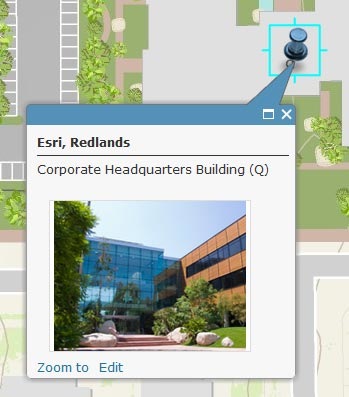 Once the map is saved, you can use the map in a custom app or embedded in a website and the pop-up works exactly the same way. Here's an example of the Esri campus map emdedded in a blog post: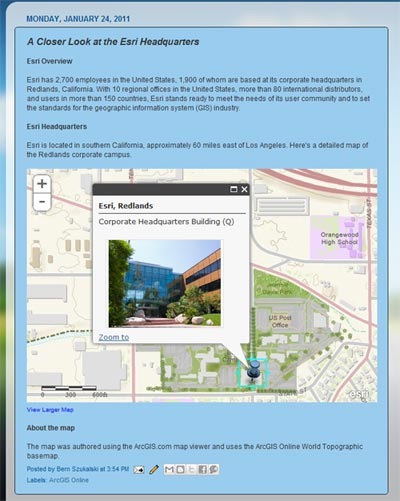 For more information see the configuring pop-up windows and creating editable layers help topics.