Tag Archives:
oil spill
Early in May, the Mobile Team wrote a blog article indicating how ArcGIS Mobile could be deployed to collect critical response information for shoreline assessment. Shortly after that blog posting, members of the Mobile team were deployed to the Incident Command Center in Houma Louisiana to assist Unified Command with the response effort and ESRI's professional services group continues to support the mobile efforts their now.
ArcGIS Mobile has proved to not only be successfully deployed for shoreline assessment, but by a number of different agencies as well. Below are three examples of projects deployed using the ArcGIS Mobile ready to deploy application:
Louisiana National Guard – deployed ArcGIS Mobile to map engineered obstacles (sand bags, HESCO baskets, etc) that were deployed along the beaches in various parishes to stop the flow of oil from reaching shore.
Alabama Marine Police – used Panasonic Tough Books mounted in their boats to map deployed BOOM.
US Fish and Wildlife – deployed ArcGIS Mobile to document oiled birds and other species they recovered within the marshes of Louisiana.
Additional agencies such as Florida Fish and Wildlife, US Coast Guard, and various response teams within BP are also using ArcGIS Mobile to feed Incident Command with critical information needed to plan response efforts. Making this the largest deployment of field GIS technology in any emergency response effort.
Since that original posting, ArcGIS 10 has been released and we have updated the example SCAT short form project so that you can try ArcGIS Mobile.
You can download the sample project using the ArcGIS Mobile application by tapping on Download Project and entering the address of the following content server – "arcgismobile.esri.com/arcgis/mobile". Or click here to download the project from your web browser. Once you create new zone and segment features you can post them to our server and view the results in our sample flex viewer (http://arcgismobile.esri.com/flexviewer/). Tap on a segment or zone to view the attribute information and validate that the feature posted is indeed your own.
Below are some photos of ArcGIS Mobile deployed by the agencies listed above. Click on the picture to see its details…
Mobile Team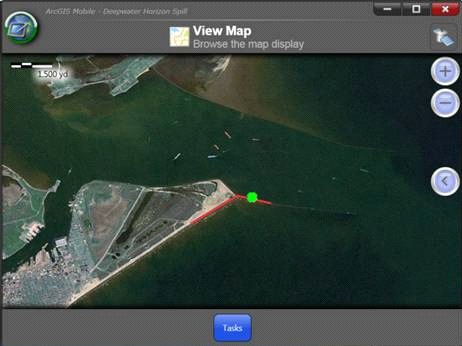 When spilled oil contaminates a shoreline, responders must survey the affected areas to determine the best response. Surveyors must follow standard forms set by NOAA for shoreline and wetland assessment. ArcGIS Mobile is the ideal solution for helping surveyors determine that response in a timely and efficient manner. It is simple, easy to use and deploy, requires little to no training for responders, and information collected can be synchronized to a Command Center in near real-time providing situational awareness and ultimately improving how decisions are made when it matters most.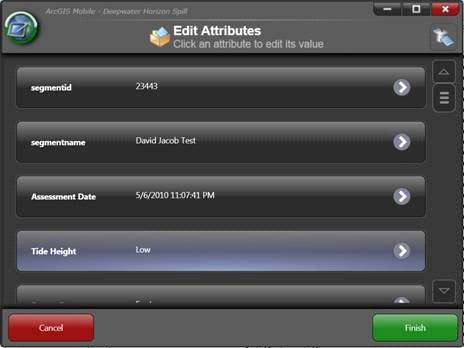 Last week, the Mobile Team created a data model for the SCAT assessment form (short form) which is used by responders. After defining the data model, the Mobile Project Center was used to create a project that can leverage the intelligence of that data model directly inside of the ArcGIS Mobile 10.0 ready to use applications.Responders can now use the GPS capabilities of the application to capture segment lines and zone points, fill out a form that meets the SCAT specification and instantly synchronize their content to the command center.
The pre-release of ArcGIS Mobile 10.0 and a project centered around the SCAT model was then hosted in the cloud and is now being ground tested now in the Gulf and shown to responders.
The Mobile team is also working very closely with a key business partner in the efforts on the ground called URSCorp. Lori Cunningham and her staff have successfully deployed a custom 9.3.1 ArcGIS Mobile application to the attention of Coast Guard officials centered out of Mobile Alabama's Command Center today (Sunday). Their application enables surveyors to collect segments using GPS, attach comments and photos that use the mobile service to synchronize content back to the server in real-time. A PDF for each surveyed segment can be generated from a web application for printing.
Stay tuned for more from the Mobile team on this and other emergency response efforts…