Tag Archives:
Mac
With the release of OS 10.6 Snow Leopard and Lion OS, the Mac Magic Trackpad and Magic Mouse allow you to interact with the system using touch gestures like tap, scroll and swipe. While not all gestures are passed on as native browser events, some gestures emit traditional browser scroll events that enable intuitive and powerful map exploration.
If you have a Mac with OS X 10.6 or greater, click here to view a demo that shows how to pan and zoom using the track pad gestures. The default behavior is pan, press the shift key to enter zoom mode.
The iPhone has shaken up the smartphone industry. It's a powerful, flexible and connected platform, and we're really excited to be bringing you tools at ArcGIS 10 to help you make the most of it.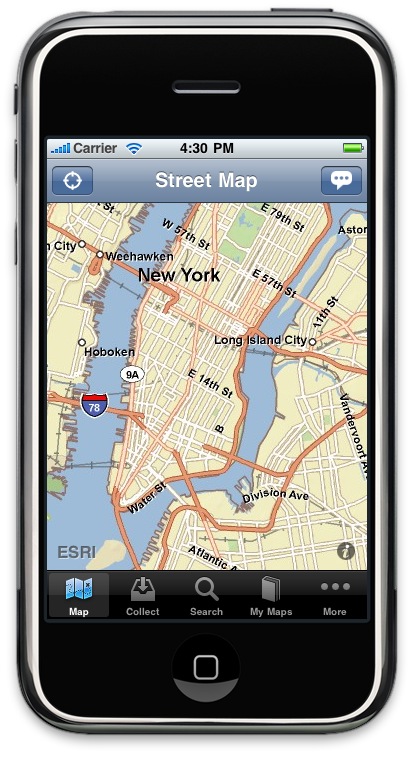 There will be three sessions at the 2010 DevSummit aimed specifically at getting you up-to-speed on our iPhone work, so if you want to find out what you'll be able to do with the API and with our iPhone application, try to fit these into your schedule.
Day 1
At 4:30pm (the last timeslot) on Day 1, A Developer's Guide to Mobile GIS will introduce you to developing with ESRI's mobile products, covering ways to build your own mobile apps as well as how to configure the out-of-the-box apps. It'll provide your first insight into our iPhone offerings and will encompass both iPhone and Windows Mobile development.
Day 2
At 2:45pm, Using and Configuring ESRI's Mobile Technology will discuss authoring and publishing mobile web maps (which applies to both Windows Mobile and iPhone) before talking more specifically about the out-of-the-box applications we provide.
You'll be able to stay in your seat after that for Developing Applications with the ArcGIS for iPhone API which will show you how to use our new API to build custom iPhone (and iPod Touch) apps making use of ArcGIS Online or your own ArcGIS Servers.
If you have to skip Developing Applications with the ArcGIS for iPhone API, you can catch it again on Day 3 at 1:30pm (and remember that we're recording all our sessions and putting them online after the DevSummit).
How is your iPhone programming?
We hope you'll find these sessions useful and we're looking forward to showing you what we've been up to with iPhone and ArcGIS Mobile. If you're planning on making use of our new iPhone products, please spare a minute to take the poll and let us know about your experience in iPhone development.
Mobile Team
The iPhone development team has been working hard to provide you with a beta version of the iPhone SDK in time for Christmas!
This is our first initial beta and it is primarily for ESRI Redlands and Regional staff only. We plan to have an open beta that all participants of the 9.4 beta program will receive near the end of February 2010. If you would like to participate in that open beta, please fill out and submit details on the form provided at the bottom of the iPhone SDK page. We will then contact you with details.

Using the ArcGIS for iPhone SDK, you can embed ArcGIS capabilities into applications that you develop for iPhone and iPod Touch devices. You can find out more about what we are building for the iPhone from the ArcGIS for iPhone Resource Center.
If you click on the SDK page, you can download a package for your Mac that includes:
The Objective-C iPhone API libraries

Integrated Reference Documentation for Xcode

Xcode Templates for creating new iPhone projects

3 sample applications that illustrate key functional aspects of the APIs
Also from the SDK page on the resource center, you can access the Conceptual Help system that includes information on how to get started, how to use the templates, a tutorial for creating your first iPhone project, and much more!!
A forum is available for you to post questions as well.
We look forward to your feedback!
Merry Christmas,
Mobile Team