Tag Archives:
HydroServer
by Stephen Brown, Graduate Research Assistant, Dept. of Civil Engineering, University of New Mexico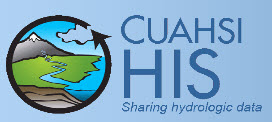 Hydrologic data analysis frequently begins with a tedious march through the gauntlet of national data repositories, downloading data gage-by-gage until you have acceptable coverage for your region.  The march continues as you homogenize the gage data to match locally collected values in an attempt to identify trends or simply graph the values for comparison.  A majority of research time may be spent simply conducting data discovery and management.
Incorporating a Hydrologic Information System into your workflow can save you time and increase analysis opportunities.  The Consortium of Universities for Advancement of Hydrologic Science, Inc. (CUAHSI) has developed an open source Hydrologic Information System (HIS) specifically to aid researchers with data discovery, analysis, and management.
Posted in
Hydro
Tagged

CUAHSI, ET, Evapotranspiration, gage, gauge, HIS, HIS Central, Hydro, HydroDesktop, Hydrologic, HydroServer, River, Rivers, stream, Streams, Surface water, water, Water quality
Leave a comment