Tag:
Explorer Desktop
The afternoon plenary "look ahead" at ArcGIS 9.4 and Explorer was hosted by 9.4 development lead Euan Cameron. Euan noted that Explorer has a rapidly paced release schedule, and that Explorer 600 will leverage some of the new capabilities being developed for ArcGIS 9.4, but will be released sooner.
Andy MacDonald delivered the preview of what the Explorer team has been hard at work on. Here's the new user interface which is based on the Microsoft Office ribbon. Andy showed how Explorer's tools and functions can be organized so they can be easily found. The new user experience, of which Andy is a key architect, will reveal only the tools that you need when you need them, simplifying thing for users and making for an uncluttered look and feel.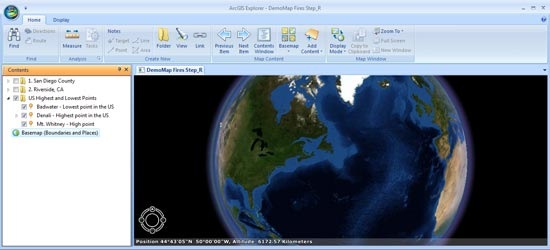 Andy also demonstrated how symbols are being organized, showing the new symbol gallery which allows you to choose from many different kinds of symbols that suit many different kinds of data and industries.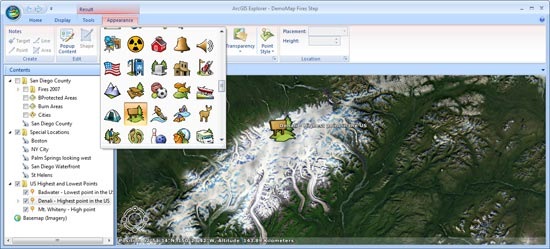 Andy mentioned that a continuing development focus is on presentation, and that the team has been working to improve these capabilities by providing tools that allow you to step though your map content much like you step through a slide deck, but an interactive slide show where you can pause and explore further, and include Web-based content.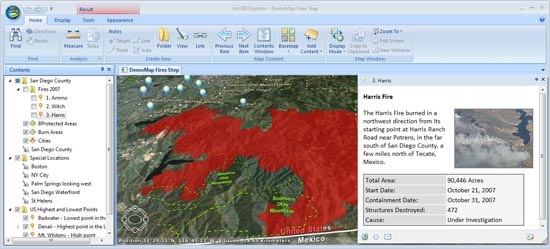 Andy also showed how Explorer 600 will work with basemaps in different ways. He showed some of the new basemap choices, and how they can be used to layer directly underneath your own data. The basemaps can be easily swapped out, allowing you to visualize your information in different contexts. The basemap gallery allows you to choice from a variety of ESRI basemaps and basemaps of your own choosing.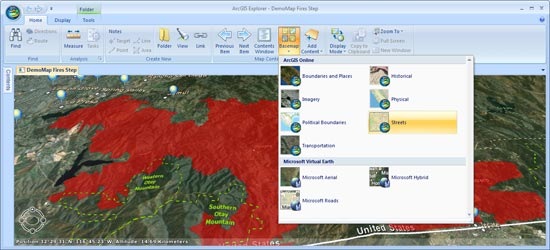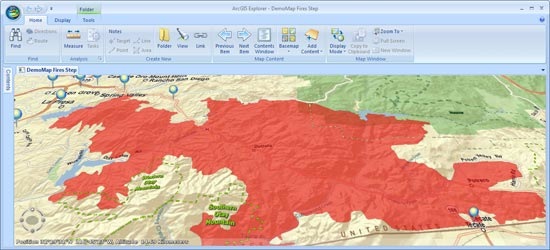 Andy showed local data draped over terrain, and the controls in the ribbon which allow you to experiment with how your map looks. You don't have to open property pages to view your options, everything is right at your mouse tips.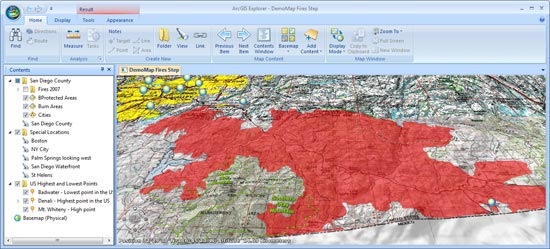 Finally Andy showed how you can toggle from 3D mode to 2D mode on-the-fly, demonstrating how you can work with your content in either mode.