Tag Archives:
evaluation
By Kenneth Field, Research Cartographer, and Damien Demaj, Online Cartographic Product Engineer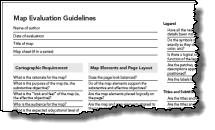 We all have favorite maps that we think are great, but rather than just saying a map looks great, how many of us are able to take a critical look at it, evaluate it, and explain why it looks great? Having the ability to reflect on and evaluate maps as information products is important to understanding effective cartographic design so you can optimize communication of the intended message in your own maps as well as be able to understand why other maps work. In this blog entry, we'll briefly look at some static maps and a web map to see what we think makes them great and then show you how using a checklist gives you the tools to reflect on maps in the same way. Continue reading →
For our first Production Mapping blog topic, we wanted to talk about what is this product named "Esri Production Mapping" and how does it help users? Let me first set the stage by talking about the common challenges that GIS organizations are facing today and then go on to describe Production Mapping's role in solving these.
We all know that GIS organizations make up the core of the geospatial infrastructure, creating the foundational spatial information for GIS systems. These organizations are essentially the 'authoritative content producers' who have the responsibility of providing high quality, accurate geospatial data and maps that other organizations, and sometimes even lives, depend on.
Posted in
Uncategorized
Tagged

assurance, cartographic, cartography, control, data, Editing, efficiency, Esri Production Mapping, evaluation, GIS, industry, management, Mapping, quality, repeatability, rules, standardization, standards, validation, workflow
Leave a comment