Tag:
esri
By David McCloskey, Cascadia-Institute.org
(posted by Aileen Buckley, Esri Cartographer)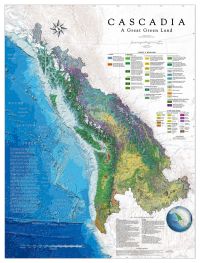 Chosen to grace the cover of the 2015 Esri Map Book, this map, by the Cascadia Institute, with cartography by Benchmark Maps, shows for the first time the natural integrity of Cascadia as a whole bioregion.
Cascadia is named for the whitewaters that pour down the slopes of her mountains. Home of salmon and rivers, mountains and forests, Cascadia rises as a Great Green Land from the Northeast Pacific Rim.
Cascadia curves from coast to crest—from the Pacific Ocean to the Rocky Mountains and Continental Divide. On the seafloor, Cascadia ranges from the Mendocino Fracture Zone to the Aleutian Trench in the corner of the Gulf of Alaska. Continue reading →