Tag Archives:
Automation
by Alison Wood, Graduate Student, The University of Texas at Austin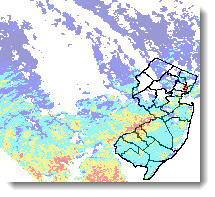 As GIS users, we often have to collect data from many sources and compile them into a single map.  For just a few sources and a single map, this might be feasible.  But what if you have to make a new map with updated data every day?  Or every hour?  Automation can save you the enormous time it would take to do that by hand, and also help to avoid the errors that can happen in repetitive tasks done by hand.  In this blog entry, I'll describe an example of automating a process to retrieve data, execute file format conversions, and update an online map; I'll also talk a little bit about some of the tools and strategies I used that will be useful for someone else automating a similar process.
Posted in

Hydro, Web
Tagged

air, air temperature, alison wood, Automation, MODIS, new jersey, online map, programming, Rutgers, script, scripting, scripts, temperature, Texas, USGS, web map
Leave a comment
A lot of us have been using the Business Analyst (BA) line of products in a variety of different ways. Business Analyst gives us access to business, consumer and demographic datasets along with capabilities to allow us to analyze our various markets, customers or competition. These interactions have usually been through focused applications:
BA for Desktop
BA Online
Web applications utilizing the BA Online APIs
BA Server
Community Analyst
These are typically all forms of client side driven analysis where we ask a question of the system and we get an answer back immediately. In some cases though we need to use the information & analysis that BA can provide as part of a larger business process e.g. tax reporting, outage management reporting…
Such business processes are likely to be running as part of a server side process, wont necessarily be initiated through any client side interactions, and may even take many hours to complete. The processes may just happen as a result of new data coming into the system or at a given time of the day/month/year e.g. a new network outage area, a quarterly reporting cycle is initiated.
As promised i wanted to follow up on my previous discussion regarding the use of geoprocessing tools to automate the process of "cleaning" RF propagation data. In that article i talked about releasing an example GP model that shows how the different tools can be strung together to automate this complex business process.
I've just added such an example model to ArcGIS.com for download.
This download includes a sample map document containing 3 RF propagation studies in the Florida area. This is the raw engineering data output by a radio planning tool (in this case we used Cellular Expert).