Tag Archives:
ArcScene
3D networks, or course! Using 3D networks, you can model transportation networks in x, y, and z space and answer questions like…
• What's the shortest indoor route or cross-campus route?
• What's the shortest wheelchair-accessible route?
• Which interior spaces of a building can be reached with a 100-foot fire hose?
• What's the most efficient way to deliver campus mail?
• Where are the best locations to install a set of defibrillators or a set of printers?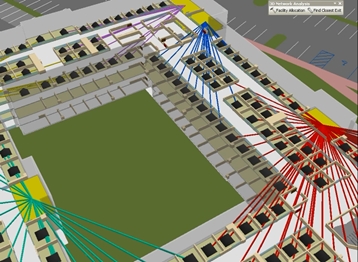 All six network analysis solvers work on 3D network datasets so there are many more questions you can answer and studies you can perform.
(I'm no myrmecologist, but if I were, I might even use 3D networks to study the movement and spatial behavior of ants.)
The 5-minute test drive
How about taking five minutes or so to generate a 3D route on your own?
By following the steps in this section, you can use ArcScene and Network Analyst geoprocessing tools to find the best route between points in a multistory building.
What you need:
ArcGIS Desktop 10
A license for the ArcGIS Network Analyst extension
A license for the ArcGIS 3D Analyst extension
Network Analyst tutorial data from the ArcGIS Tutorial Data media.
Steps:
Using Windows explorer, navigate to the 3DRouting folder, which is included with the Network Analyst tutorial data. (By default, this tutorial data is installed at C:arcgisArcTutorNetwork AnalystWorkflow3DRouting.)
Double-click 3DRouting.sxd.ArcScene opens showing a three-story building.
Click the Catalog button on the Standard toolbar. The Catalog window appears.
In the Catalog window, expand Home – Workflow3DRouting > 3DRoutingTools.tbs.
Double-click Find best route. The Find best route dialog box opens; however, if a message appears instead indicating the tool isn't licensed, follow these substeps:
a. Click OK.
b. Click Customize > Extensions on the menu bar to open the Extensions dialog box.
c. Check Network Analyst and click Close.
d. Try double-clicking Find best route in the Catalog window again.
Click the Add Features button.

7. Click on a line that represents a hallway to add a stop.

8. Repeat the previous two steps to add another stop.
9. Click OK. The tool finds the fastest walking route between the stops and displays the route with a green tube.
You can use the tool again to find the best route that avoids stairs (for wheelchair accessibility) or avoids elevators (for emergency evacuation routes).
If you'd like to learn more, see the Help topic Analysis on 3D network datasets.
Content provided by Robert Garrity