A couple of posts ago we showed how you can connect to ArcGIS Online directly to add additional content, and we highlighted a couple of the services, including the ONC charts from NGA. Continuing that thread, we'll take a look at user contributed content in this post.
On the ArcGIS Online resource center you'll find information about the Content Sharing Program (CSP) which enables users to contribute content that will be hosted and published by ESRI. Some of the CSP content is part of the World Events Imagery service which we'll take a closer look at.
Connect to ArcGIS Online like before, and select the CSP_Imagery_World globe service, shown here: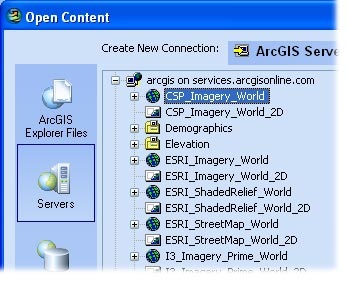 Some of the CSP content is highlighted by shaded polygons, and after you've added that service you'll see those on your map. Here we've zoomed in to the Texas and Louisiana coastal region, and can see the yellow shaded polygons indicating where the new content has been added.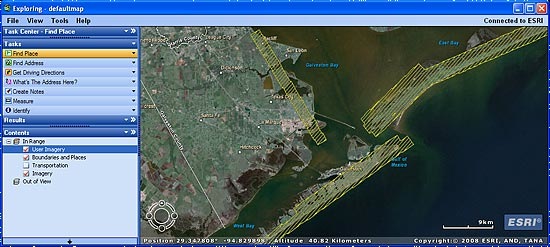 As you zoom in you will see the new imagery, and here we've used the swipe tool to compare the default basemap imagery with the newer contributed imagery showing the damage immediately after Hurricane Ike went through the area. The basemap imagery is on the left, the imagery flown just after Ike went through is on the right.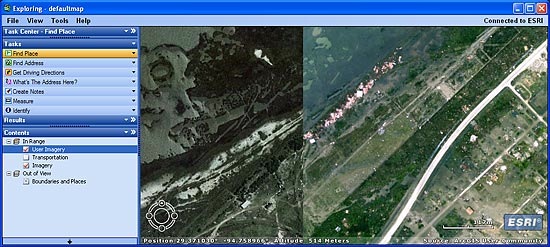 Zooming out to Portugal we see another area of contributed imagery highlighted in this service.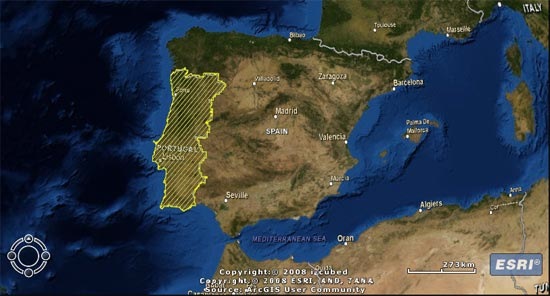 And as we zoom in we eventually reach the scale threshold at which the imagery can be seen.