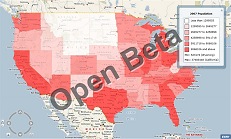 Exciting things are happening on the eve of the 2009 ESRI Developer Summit! Today the ArcGIS API for Microsoft Silverlight/WPF went into a public beta. This API allows you to build interactive Internet and desktop GIS applications using Microsoft's Silverlight and Windows Presentation Foundation (WPF) technologies.
Try out the beta API using the online SDK, where you'll find samples, introductory help, and an API reference. There's also a Silverlight/WPF Code Gallery that already contains a Flickr mashup you can try.
If you encounter a bug when working with the beta, or if you just have a suggestion for improving the usability of the API, please report it to the ArcGIS API for Silverlight forum or the ArcGIS API for WPF forum. We look forward to hearing your feedback as we move the API toward its official release.
The Silverlight/WPF API wasn't the only addition to the ArcGIS Resource Centers today. You may have also noticed some new "Media Gallery" pages in the online SDKs. These contain videos and other presentations to help you learn the APIs using a variety of media. Visit this post on the ArcObjects Development Blog to learn more about the media galleries and how to access them.
Happy coding, and best wishes for your travels if you're joining us in Palm Springs next week!
Contributed by the ArcGIS Server software development team